Angels in Amercia Part Two: Perestroika
Tony Kushner
Headlong Theatre, Citizens' Theatre and the Lyric, Hammersmith
The Lowry, Salford, and touring
(2007)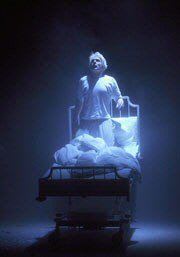 Part two of Kushner's epic 'gay fantasia on national themes' is a very different play to part one (reviewed elsewhere). In Perestroika, reality breaks down completely and hallucinations, dreams and fantasies intrude into the similarly fractured lives of the characters we were introduced to in part one.
At this point in the story: Harper is in a Valium-fuelled fantasy trip to the Antarctic with Mr Lies of the International Order of Travel Agents; Prior, apparently dying of AIDS, has been visited by an angel and told he is a prophet; Prior's boyfriend Louis has left him as he cannot cope with his disease and hooked up with Joe, a repressed, Mormon, Republican lawyer and husband to Harper. Meanwhile, Joe's mother has sold her house in Salt Lake and come to New York where she is looking after Harper at the Mormon Visitors' Centre, and bigoted, corrupt lawyer Roy Cohn is in hospital dying of AIDS—which he bullies his doctor into labelling as 'liver cancer'—where he is looked after by camp, black nurse Belize and is being visited by the ghost of Ethel Rosenberg, whom he once had executed. By the end, Prior is faced with the deciding whether to choose the angels' reactionary solution for the disappearance of God or to choose more life and to go on living without God.
Again we are sent on a roller coaster of emotions from laugh-out-loud funny to emotional torment, and the wonderfully insightful analyses of politics, race, sexuality, relationships, religion, life and death are perfectly natural and never forced, as they sometimes are when confronted in soaps, as characters are given time to naturally come to the point emotionally where they are able—even compelled—to make such observations. The thoughtful but humorous analysis begins from the opening speech by 'the World's Oldest Living Bolshevik', who tells us he would be the first to man the barricades for change to the new American culture of capitalism and cheeseburgers if he was given the theory behind the new social and political system to show it is not just superficial dressing with no substance.
The performances in part one were wonderful, but in part two some are taken to a whole new level. Mark Emerson as Prior Walter really takes charge in this play and copes effortlessly with a hugely challenging part. Obi Abili has a lot more to do in this part, and he is absolutely superb as Belize and Mr Lies. Greg Hicks is every bit the despicable, selfish lawyer as Roy Cohn as he rants and raves in his hospital bed and abuses Belize, but occasionally an element of sympathy creeps in for a dying man. Golda Rosheuvel has an amazingly powerful voice as the Angel, making the slightly overdone microphone effects seem unnecessary. The rest of the cast, mentioned in the review for part one, are equally stunning in part two.
Soutra Gilmour's set design also comes into its own in this part, as the stage builds up with debris and objects change from one thing to something completely different before our eyes. The sound quality is still not great in the stalls—although better than in the top gallery—and some of the microphone effects are overdone, although again there is some interesting use of music and sound effects.
More than seven hours of drama is a lot to take in even over two days, but this is amazing, life-affirming, possibly life-changing theatre and is like reading a great book where you don't want to finish it because you'll miss it when it's gone. It deals with big issues (and not often happy ones) such as death, political corruption and God's abandonment of the human race (at the time of the 1906 San Francisco earthquake, apparently) but still manages to be uplifting and ultimately hopeful about the future of humanity. However nothing is seen to have a 'quick fix' solution and everything meaningful has to be worked hard for, and so instead of a 'happy ever after' ending, we are told at the end that 'The Great Work Begins'.
Go and see Kushner's 'Great Work' in this stunning production that is not to be missed.
Peter Lathan reviewed this production at Northern Stage, Newcastle, and it was then reviewed by Philip Fisher at the Lyric, Hammersmith
Reviewer: David Chadderton