Angels in America Part 1: Millennium Approaches
Tony Kushner
Signature Theatre, New York
(2010)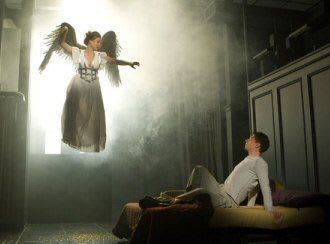 Angels in America is one of the greatest plays of its era, astonishingly now 25 years ago, and possibly of all time.
In this seven hour epic of Magic Realism that he appropriately subtitles a "Gay Fantasia", Tony Kushner explores not so much the death of the Great American Dream as its mass suicide.
The writer's genius is in combining a passionate examination of the impact of the AIDS epidemic on the gay community in the eighties with an attack on what he would see as the heartless politics of Ronald Reagan's presidency. He also throws in a good dose of that fantasy with "Angels" injecting humour without diminishing the power of his message.
While the idea of spending almost the duration of a working day watching a play might seem daunting, it actually becomes uplifting and inspiring. For this viewer, it was also put into perspective by almost exactly the same time spent on a runway at JFK waiting to get off a plane the day before, which felt ten times as long.
Director Michael Greif does the playwright proud in this revival at Signature Theatre, one of the most reliable Off-Broadway houses, as part of a season paying homage to the writer.
He is helped by a fluid scenic design from Mark Wendland that utilises two large, swiftly revolving pieces of scenery as well as projections and has moments of drama and beauty that take the breath away, particularly at the death of this first part, Millennium Approaches.
The story broadly follows three strands that drift in and out of each other but also contains much more beneath the surface to complete the picture.
First, there is the rocky relationship between Prior Walter, Eric Bryant playing the scion of an old English family that can trace its roots back to the Norman Conquest, and Jewish Louis Ironson, a sensitive performance from Zachary Quinto.
Next comes an equally difficult pairing, this time involving straight(ish) Mormons, a depressingly believable Zoe Kazan's valium- and hallucination-addicted Harper Pitt and her Master of the Universe lawyer husband Joe, played by Bill Heck. Hunky Joe is the link between the different parts, falling for Louis and working with Frank Wood as Roy Cohn.
Cohn is drawn from what is now history, a disciple of Joe McCarthy, who is as homophobic as they come but has a little secret that is outed by the tell-tale lesions of the "gay plague", already making their symbolic progress across Prior's body.
Kushner cleverly mixes the personal with the political and in doing so illuminates both, making telling remarks about the Reagan years at the same time as relating a series of timeless love stories.
It will be hard to get tickets for Angels in America but anyone in love with theatre should do whatever they need to in order to witness what will undoubtedly be one of the highlights of the season.
Reviewer: Philip Fisher