Angels in America Part 2: Perestroika
Tony Kushner
Signature Theatre, New York
(2011)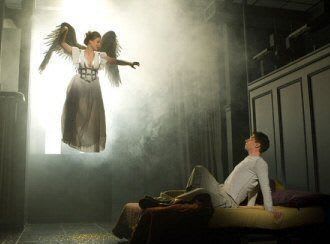 The second part of Tony Kushner's Aids epic is much darker and more mystical than the first and, at 3¾ hours, half an hour longer. Even so, it rarely drags or feels forced.
The central focus has largely moved to hospitals now, as two of the main characters are fighting for their lives against "the gay plague".
Prior Walter, now played by the quirkily impressive Christian Borle (taking the job back from his understudy Eric Bryant) is trying to make sense of life and love, having lost his lily-livered boyfriend Louis to a seemingly straight Mormon lawyer but in return found himself an Angel, portentously played by Robin Weigert.
Such is the power of morphine, or magic if you prefer, that hate figure Roy Cohn also has his own dead companion to commune with. She is Ethel Rosenberg, played by Robin Bartlett who is an extremely talented character actress with a good line in breeches parts.
As older Americans will recall, Ethel and her husband Julius were convicted as Soviet spies and executed, thanks to the diligent efforts of Joe McCarthy and his sleazy sidekicks such as Roy Cohn.
Only Bill Heck's Mormon Joe and his circle remain to plough a furrow in the outside world and they provide rich entertainment.
Joe has fallen for Prior's Jewish ex Louis, played by recent film Doctor Spock Zachary Quinto. The path to true love is far from smooth for this pair, with everyone around making life difficult.
Joe's wife Harper is recovering her sanity, helped by a celestial travel agent and the mother-in-law on a lengthy visit from Salt Lake City. She turns out to be rather more liberal than one might imagine, providing much needed therapy to Prior.
He is also helped by the splendid Billy Porter playing Nurse Belize (it sounds better than Norman), who is simultaneously employed in keeping Roy Cohn alive, though he hates everything about him, ensuring some feisty dialogue.
Angels in America is an amazing work, considering the Aids epidemic as it happened but showing even greater ambition. It also portrays the soullessness of Reagan's America, the beginnings of post-Cold War thaw or Perestroika and looks into the meaning and benefits of religion in the late Twentieth Century. It helps that Kushner's language is often poetic and the emotional power immense throughout.
Signature Theatre is to be congratulated for allowing director Michael Greif the finance and freedom to put together a fine cast featuring eight adaptable performers and a creative team who have together produced a really memorable piece if theatre. Only return tickets are available but anyone in the city would be well advised to try their luck.
Reviewer: Philip Fisher