Anjin: The Shōgun and the English Samurai
Mike Poulton with Shoichiro Kawai
RSC / HoriPro co-production
Sadler's Wells
–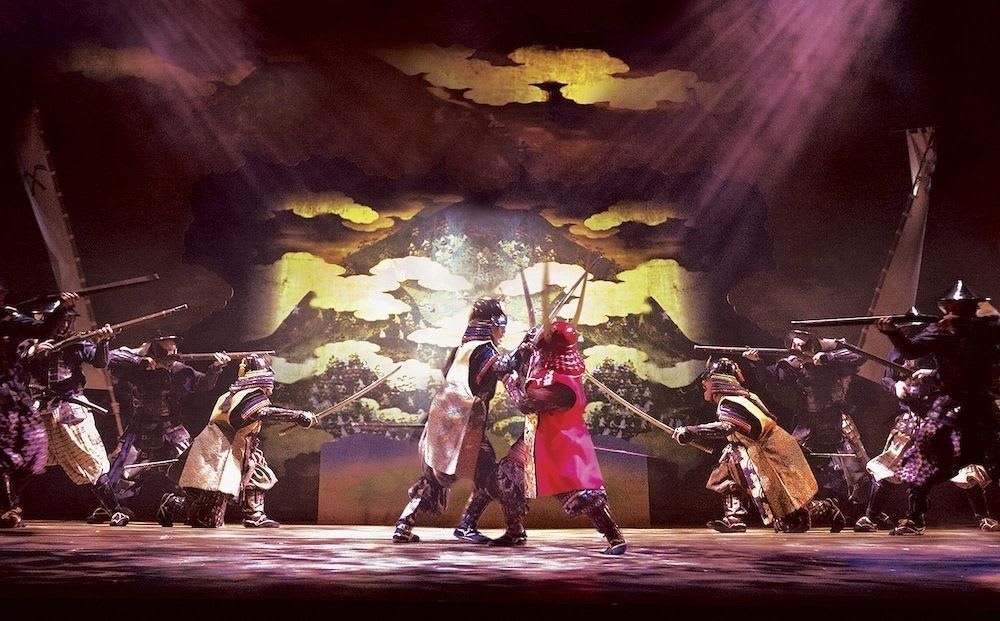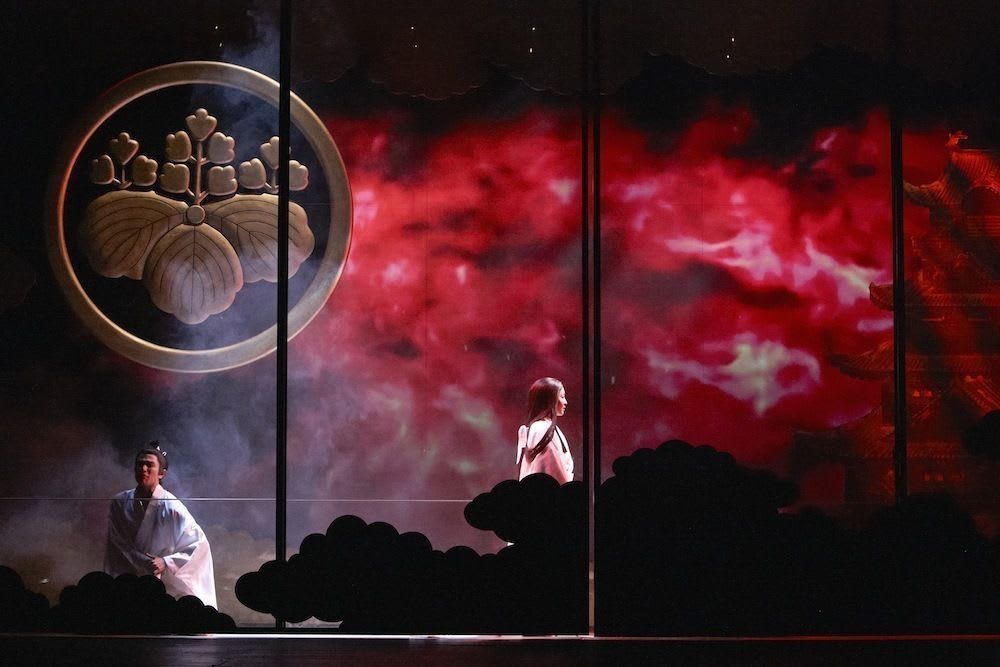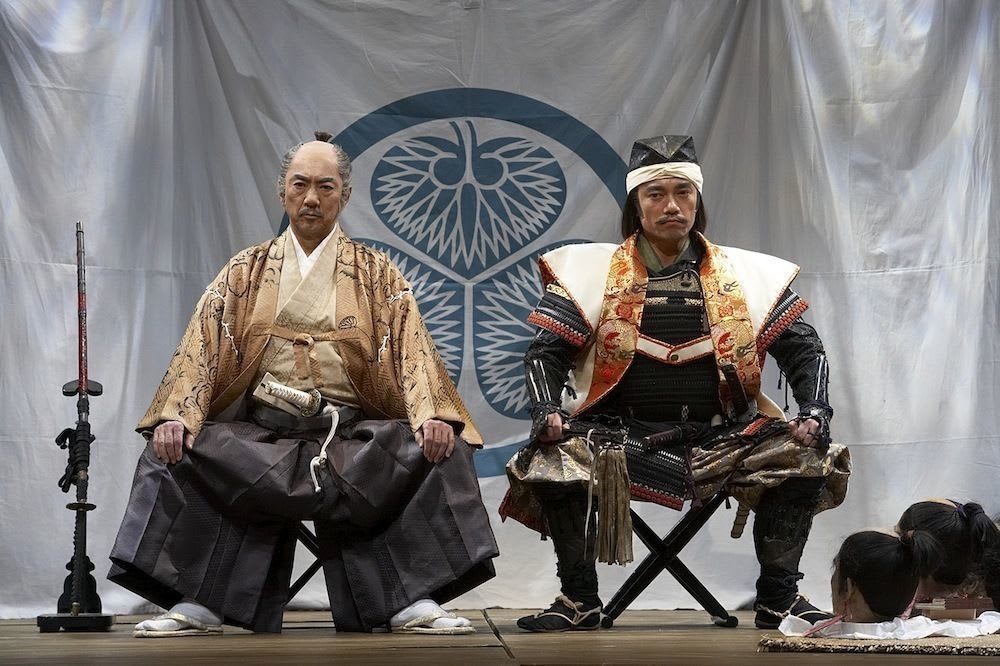 Last year The British Museum produced a Shakespeare Staging the World exhibition; this year as part of his A World Elsewhere season Gregory Doran, the new artistic director of the Royal Shakespeare Company, has the idea of finding parallels further afield, in the intriguing true tale of the first English Samurai, William Adams, who arrived in Japan in 1600.
Some of you may know James Clavell's 1975 novel Shōgun, others of you may have come across Giles Milton's 2002 book Samurai William, or like Stephen Boxer who plays Adams in this production, you may have found the out of print The First Englishman in Japan; the story of Will Adams by Philip George Rogers with a foreword by Edmund Blunden published by Harvill Press in 1956.
A fascinating story that covers the first sixteen years of the seventeenth century, the first tentative steps of two island nations towards mutual comprehension, which writers and translators Mike Poulton and Shoichiro Kawai have had to condense into just under three hours of playing time.
Not only that but seventeen Japanese and seven British actors, mostly speaking in their own languages, have to negotiate the minefield of different acting traditions and translation. Of course, translation in every sense of the word is the foundation of theatre.
There are surtitles in both languages, but it is the sound and the fury of the spoken word, its vocal power and fluency that reveal character. The Japanese actors' delivery, especially the celebrated Masachika Ichimura's, sounds declamatory, but then he does get the best lines; Stephen Boxer makes the English Adams a softer-spoken man. One's ear needs constant tuning.
Adams, born in Gillingham Kent the same year as Shakespeare, was a ship navigator, a pilot (anjin in Japanese), whose ship was wrecked on the shores of Japan, where no English had yet set foot. The Spanish and Portuguese were already there, Jesuits converting locals to their rigid form of Christianity.
The Spaniards and Portuguese do not get a good press in this tale. As soon as Adams lands the Jesuits demand crucifixion for him and his men, claiming they are pirates. They deliberately mistranslate his words, but the wise and curious Shōgun Ieyasu Tokugawa grants Adams an audience.
The Tempest comes to mind, as do the history plays, Macbeth and King Lear: internecine strife, Samurai clans jostling for power. Shōgun Ieyasu Tokugawa wants a legacy of peace, but the scheming bitter 'Lady Macbeth' Yododono wants vengeance. Kurosawa and Ninagawa adaptations and translations of Shakespeare to screen and stage have also left their indelible mark on script and staging.
Shōgun Tokugawa takes to Adams, giving him privileges and status, renaming him Miura Anjin. A bond forms between the two, and the Shōgun is reluctant to let him go home, where Adams has a wife and child.
Adams eventually turns native, marries a Japanese woman (his wooing of Oyuki bears an imprint of the last scene of Henry V) with whom he has two children. When the British ship Clove visits in 1613 and he has the opportunity to go home, after much soul-searching he decides to stay.
Shōgun Tokugawa dies in 1616, Adams in 1620. The new Shōgun instigates Catholic persecution, mass executions, and Japan becomes a closed society again—for the next two hundred years.
There's a lot of story to fit in, some comic relief to break it up (the Dutch for brandy sounds like 'fuck it' in Japanese…), as well as scenic battles to fight, lots of decapitated heads to contemplate, and a touching scene with a child, the last of his dynasty, who is told to face his public beheading with dignity.
The Portuguese Jesuits are venal lying cowards, the posturing Spanish conquistador shouts at the Japanese as if they were hard of hearing—a common trait in mono-linguists. The Dutch are heavy drinkers; the coarse English no better.
The Japanese are stylish with strict codes of behaviour. Adams learns quickly and is rewarded. Many who straddle two cultures will recognise the divided self that Adams feels, but also the glaring clichés and bear traps in each cultural misunderstanding.
Much research has gone into this epic production; Yuichiro Kanai's sliding sets are stunning; Dozan Fujiwara's music and Iwao Takahashi's sound design provide the tone poem, amplify the scant battle scenes, and know when to remain silent; Taiki Ueda's video backscreen is painterly; Lily Komine's costumes a veritable eyeful.
Shakespeare it is not, though there are moments—it probably plays better in Japan (much praised there on its first airing in 2009). The pace is slow, but should pick up as the company settles. As a piece of theatre it is dressed-up storytelling.
"How the world judges my achievements" matters to Shōgun Tokugawa. His last speech, sung-spoken, talks eloquently of the soul and the sinews: the sinews have yet to match the soul of this ambitious project.
"Anjin examines the life of a man who served as a vital conduit for Western culture", this year launching the celebrations "of the 400th anniversary of the start of Anglo-Japanese diplomatic and trade relations"… surprisingly the auditorium on press night was far from full.
Reviewer: Vera Liber