Anna X
Joseph Charlton
Sonia Friedman Productions
The Lowry, Salford
–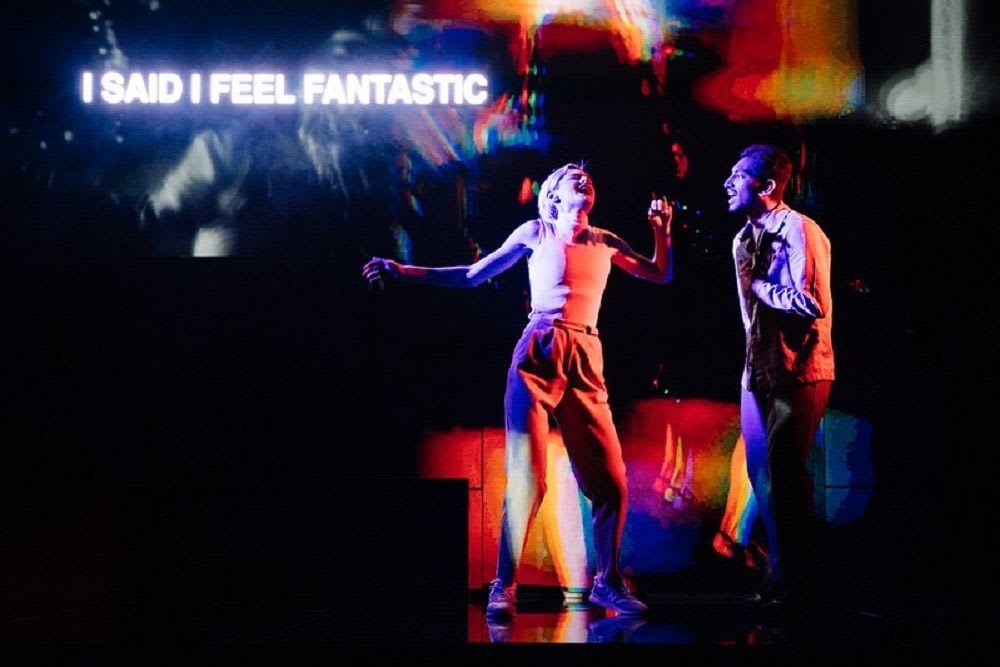 Anna X opens with a bang and drags the audience along on a breathless rush, jumping from one exclusive venue to another.
We are dropped into the middle of a nightclub where the loud music drowns out the dialogue, so it appears as captions on the wall of the amazing set by Mikaela Liakata and Tal Yarden. Ariel (Nabhaan Rizwan) cannot believe his luck—a computer dating app he designed has become a hit making him wealthy. He is dancing with Anna (Emma Corrin), daughter of wealthy Russians and curator of an art gallery for which she is seeking investors. Actually, Anna has never been to Russia—she is from the Ukraine and is an intern at a fashion magazine. In other words: she is a fraudster.
Joseph Charlton's script is inspired by "fake heiress" Anna Sorokin, who was convicted of grand larceny in 2019. The target of his cautionary tale is, however, a society in which deception is an acceptable everyday occurrence. Social media blurs the lines between reality and falsehood, encouraging users to post inaccurate or misleading details and even to invent false online personalities, and people in authority evade consequences when caught practicing deception. Anna is inspired to practice fraud by conceptual artists who lack the talent to paint or sculpt and so sell an idea of art to gullible patrons. To an extent, Ariel is no better than Anna. There is an element of falsehood in how he made his fortune: exploiting customers who believe the illusion that being accepted as a member of his exclusive dating site makes them somehow special.
Nabhaan Rizwan plays Ariel as a bewildered innocent out of his depth in the high-flying elite groups into which he has stumbled. Unlike Anna, Ariel never seems at ease in any of the high-class venues he visits and is bemused by his financial success. Surprisingly, Emma Corrin does not characterise Anna as a grasping opportunist. She takes a dry, matter-of-fact approach to the character and justifies her actions on the grounds everyone else is cheating so she might as well do the same. It is not that Anna lacks remorse; she simply does not regard her actions as wrong. In America, she remarks, liars are considered entrepreneurs.
Daniel Raggett gives the impression Anna's ability to deceive is very much due to the superficial, privileged groups in which she operates. He sets a deliriously fast pace jumping from one lush location to the next, giving the impression we are getting a glimpse into the exclusive world of the 1% hyper-rich. It is no wonder Ariel does not question Anna's actions—he does not have time to stop and think. There is a strong impression of privilege—Ariel's reaction to being stuck with a massive hotel bill by Anna is initially surprise, then amused acceptance—it is only money.
The performances are excellent, but the main success of the production is the set and video design by Mikaela Liakata and Tal Yarden. The landscapes / cityscapes, exclusive hotels, art galleries and so on depicted in the videos are breathtakingly convincing and the speed with which they change adds to the adrenaline rush of the production. Simple designs—squares project out of the rear of the stage—allow the cast to sit in, or lean upon, the images as if they are solid objects, which reflects the play's theme of illusions being real. When Ariel has a final confrontation with Anna, the set splits apart and the images cease as if for the first time the couple are meeting in the real world rather than the illusion they had previously occupied.
Anna X is a thought-provoking play staged in an exciting manner leaving the audience dazzled but very satisfied.
Reviewer: David Cunningham