Anna Christie
Eugene O'Neill
Donmar Warehouse
(2011)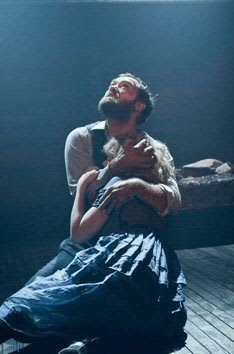 Eugene O'Neill does seem to bring the best out of acting combinations. Anybody who thought that Kevin Spacey and Eve Best were as good as it gets in Moon for the Misbegotten might be tempted to reconsider if they get the chance to see Jude Law and particularly Ruth Wilson in Rob Ashford's faultless revival of Anna Christie.
The staging itself can be wildly exciting, with a storm scene just about as realistic as the weather in London over the last few days. The frightening realism owes much both to set designer Paul Wills and his lighting colleague Howard Harrison.
The liberal use of dry ice fog also creates memorable images, none more so than the one on which the lights finally go down. In between, the claustrophobic atmosphere is ceaselessly maintained with the use of a sloping deck for the barge at the centre of the drama particularly effective.
The opening scene, in a bar by the New York docks, introduces us to the foil for the two main actors, Swedish immigrant Chris Christopherson, mysteriously known as Dutchy.
He is a lovable rogue with a drink problem. When a letter arrives from his daughter, not seen for the last fifteen years which represents three-quarters of her life, the old man, delightfully played by David Hayman, gets predictably excited at the recollection of the tiny girl that he last new.
The irony of this play, if one ignores the feminist slant, is that both father and daughter have overly romantic notions of the other's life. Chris thinks that Ruth Wilson's Anna is a chaste nurse-girl, which is a thing of the past, while she believed that he had gone on to bigger and better things than captaining a coal barge.
When they meet, despite the efforts of Marthy Owen, given wit and grit by Jenny Galloway, the hidden secrets were never likely to stay beneath the surface for long. In particular, Anna has been working in a "house", apparently a coded term for a brothel in the United States soon after World War I.
This drama would be engrossing enough but the arrival in the storm of a particularly waterlogged but now heavily muscled Jude Law as Mat Burke changes everything. While it might not quite be love at first sight, Mat invites Anna to be his wife within about 20 minutes of meeting her.
His persistence is brought to a standstill and not merely by the opposition of her rediscovered father, though he hates the idea of her wedding a ship's stoker.
The core of this play, which seemingly owes much to Ibsen, lies in what we would now see as outdated morality. This means that no father would even speak to his daughter once she has fallen and no self-respecting man, even a stoker, would dream of marrying her. The fact that each of these hard men has a woman in every port makes not the slightest difference.
Having created this situation, O'Neill gives his actors numerous opportunities to shine. Ruth Wilson, who did so well at the same venue in A Streetcar Named Desire, excels in a series of powerful speeches, beautifully combining tough Anna's natural belligerence with her overwhelming sense of shame.
Giving us as perfect and Irish accent as Miss Wilson's is New York, Jude Law is very nearly as accomplished in what must be his best ever stage performance. By the end of the 2½ hours, not only are the two leading actors and their characters seemingly exhausted, the emotional energy required from the audience can have a similar effect.
This is acting at its very best in a wonderful production and, being the Donmar, anyone wanting to get tickets now is likely to have to queue for returns.
Playing until 8 October
Reviewer: Philip Fisher