Another Day's Begun
Howard Sherman
Methuen Drama
Released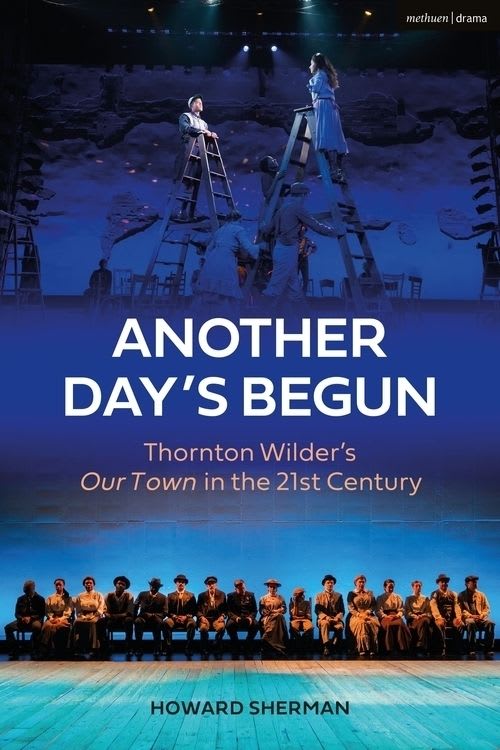 It is hard to find a British equivalent to Thornton Wilder's Our Town. In some ways, it takes on a similar role to half a dozen of Shakespeare's most popular plays or, looking at modern parallels, the oeuvres of Alan Ayckbourn and John Godber.
Our Town is the most popular and frequently produced American play. It is a high school staple, regularly performed in universities and, as this book demonstrates, is constantly revived by professional companies. In a homage to an iconic play, Howard Sherman has devoted a 270-page book to the topic, primarily concentrating on performances over the last 20 years.
Before getting into a long series of interviews with significant figures from a wide range of productions, Sherman presents introductory chapters about the play itself, its early productions and broadcast history. However, the core of Another Day's Begun lies in a series of intelligent discussions between those involved in every kind of production from schools to Broadway and the UK stage.
Every reader will have his or her particular area of interest. Strangely, it is not necessarily the most obvious productions that lead the way. Perhaps the most moving chapter is that relating to overlapping performances in Baton Rouge, Louisiana between a university company and a youth project. Having started out with the standard response that questions why they would want to stage a play about old white people, the youngsters involved discover that new readings can introduce issues of racial and gender equality, while far too many teenagers in this region appear to have experienced tragedy at first hand.
At the other end of the scale, what might have started out as a folksy production at Westport, Connecticut, graced by the artistic director's husband Paul Newman and a team of other experienced actors, eventually ended up selling out on Broadway. Joanne Woodward's initial impetus to programme Our Town derived from a desire to respond to the 9/11 atrocities in nearby New York with an affirmation of community.
The productions with which British readers are likely to be most familiar are a pair performed in London and one in Manchester, all in the last half dozen years, demonstrating that what seems to be an archetypal American play has universal appeal and meaning. American director David Cromer started out in a small Chicago house, before moving off-Broadway and then to the Almeida in London.
It is fascinating to learn not only of the experiences of actors on both sides of the Atlantic but also Cromer's strong views about what is and is not permissible when re-creating an 80-year-old play for a new audience. Following Joanne Woodward's thought process, Sarah Frankcom decided to use this play at the Manchester Royal Exchange as a gesture of unity following the Manchester Arena tragedy. Most recently, in 2019, the work received outdoor treatment in a version at Regent's Park Open Air Theatre.
Almost every director who has chosen to put on this old, established standard had something new that they wanted to bring to the party. Theatrical Outfit in Atlanta, Georgia paired it with Moisés Kaufmann's The Laramie Project, while Miami New Drama presented a trilingual version, with different actors speaking in English, Spanish and Creole.
Even by these standards, the production by Deaf West and Pasadena Playhouse was special, in that it combined deaf and hearing actors with positive results for both performers and audiences. However, Howard Sherman saves the least likely production until last. This involves inmates at Sing Sing Correctional Facility, the maximum-security prison on the outskirts of New York City. Despite prisoners' initial reluctance to take on a play that appears to be about white people living dull lives long ago, like everyone else interviewed in this book, they are soon sucked into the hidden depths of Thornton Wilder's classic.
What everybody learns quickly while rehearsing and then staging Our Town is that something which initially appears to be an anodyne, old-fashioned tale of country folk soon establishes itself as a deep and moving exploration of life and death that speaks just as loudly to audiences today as it must have done in 1938 when it first took to the stage.
Like its target, Another Day's Begun builds a wealth of information and interest as readers discover the ways in which it has touched so many diverse lives. It should also act as a motivator to persuade fans to see or read Our Town, whether that is for the first time or the umpteenth.
Reviewer: Philip Fisher