Anyone Can Whistle
Book by Arthur Laurents, music and lyrics by Stephen Sondheim
Primavera Productions
Jermyn Street Theatre
(2010)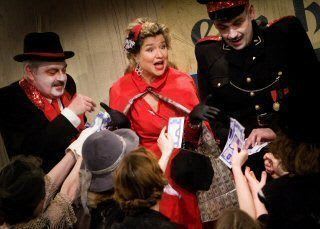 Anyone Can Whistle failed to find favour when it opened on Broadway in 1964 closing after only nine performances.
Apart from a handful of critics who lauded its daring and groundbreaking inventiveness the show did develop sufficient admirers to achieve cult status, thanks largely to the release of a cast recording, and it is now widely recognised as the show that "inaugurated the Sondheim we know today".
Despite updates in 2003 at the Bridewell Theatre the piece remained muddled and was not well served by a lame production - Janie Dee's performance being its saving grace. It all goes to suggest that it continues to be as inaccessible as it was nearly fifty years ago.
We have come to expect Sondheim to write about unconventional subjects and here the story is set in a bankrupt town run by corrupt Mayoress Cora Hooper and her equally slippery and morally unattractive henchmen. Between them they conjure up a fake miracle but their lucrative scam to swindle money from pilgrims goes awry with the arrival of a dissident, Hapgood, who is mistaken for a psychiatrist, and principled Nurse Fay who works at the local asylum, known as the Cookie Jar.
Add to this a social satire, another plot concerning the ill-fated flirtation between frigid Nurse Fay and nutsy Hapgood - his freethinking clashing with her unshakable belief in control, duty and responsibility - and set it all in an absurdist invention lampooning authority and subverting the value of orthodoxy.
No small feat, then, that director Tom Littler has brought some light and order, if not exactly harmony, to Sondheim and Laurents' nonconformist piece. Brazenly mixing Sondheim references - one could say with "a wink and a wiggle, a pinch and a diddle in the middle" - he has managed to create something that is both reasonably coherent and entertaining.
Littler has adopted a Brechtian approach and setting which sits well with the absurdist nature of the piece and it loses remarkably little for changing time and place so significantly, though the drawing of political parallels is a little overbearing and perhaps a deviation too many from the spirit of the original.
The 'chorus boys' of the original have been exchanged for more sinister uniformed sidekicks and only a smidgen of ballet remains in the surreal Cookie Chase scene - which count in my book as good choices. Add to these the inclusion of 'There Won't Be Trumpets' and the exclusion of 'There's Always a Woman', both previously cut from the show, and a number of other successful tamperings.
Issy van Randwyck is deliciously duplicitous as the Mayoress, a vision of sleazy glamour in black and red on the outside barely masking the unscrupulously Stygian inside. Her numbers are pastiche show tunes and Ms van Randwyck's flair for comedy, great voice and over-the-top portrayal sends up the Broadway stereotype a treat.
Alistair Robins is a nasty Comptroller Schub with a predatory, almost reptilian edge, highlighting the contrast with tap dancing sidekicks Cooley and Magruder played by Leo Andrew and Karl Moffatt who get all the comedy as well as some menace from these buffoons.
Rosalie Craig is outstanding as Fay Apple. Blessed with a beautiful, clear voice she is easily equipped to handle the role vocally and she handles the humour of 'Come Play Wiz me' as easily as the vulnerability of the title song, and the passion of 'There Won't be Trumpets'.
David Ricardo-Pearce is more relaxed and natural as the quirky "practicing idealist" Hapgood than as the debonair hero of Primavera Production's previous Sondheim piece, Saturday Night. Rumpled and looking a lot like a young Stephen Sondheim, he doesn't let the notoriously difficult number 'Simple' get the better of him, but vocally he faltered in the stunning duet 'With So Little To Be Sure Of'.
The ensemble are outstanding: Nick Trumble does a good turn in the cameo role of Dr Detmold and his cello adds a much-needed richness to the musical accompaniment. The others play at least two instruments in addition to carrying smaller roles well. Amongst Richard Colvin, Sophie Jugé, Lloyd Gorman, Deborah Hewitt, Rhiannon Sommers and Elizabeth Reid - all talented and versatile - the latter two particularly stand out.
Musical director Tom Attwood has done a good job with so few, albeit very skilled, actor-musicians, and the inclusion of a waterphone was an unexpected pleasure, but there were certainly times I missed the lushness of a fuller sound. Since there is no appetite to take a risk on a major revival of such a flawed piece musically Anyone Can Whistle will always be scaled down, and of course in need of some reworking of the book.
Tom Littler's inventive approach to the material and Brechtian device has worked wonders and whilst it remains imperfect, Anyone Can Whistle has a degree of cogency whilst still displaying its surreal roots. This is definitely a case of "Think less, enjoy more."
"Anyone Can Whistle" plays at the Jermyn Street Theatre London until 17th April from Tuesday to Saturday at 7.30pm with matinées on Saturday and Sunday at 3.30pm except Easter Sunday
Sandra Giorgetti has also written an article about the background to "Anyone Can Whistle"
Reviewer: Sandra Giorgetti