Anything That Gives Off Light
Jessica Almasy, Davey Anderson, Rachel Chavkin, Brian Ferguson, Sandy Grierson
The TEAM and the National Theatre of Scotland
Edinburgh International Conference Centre
–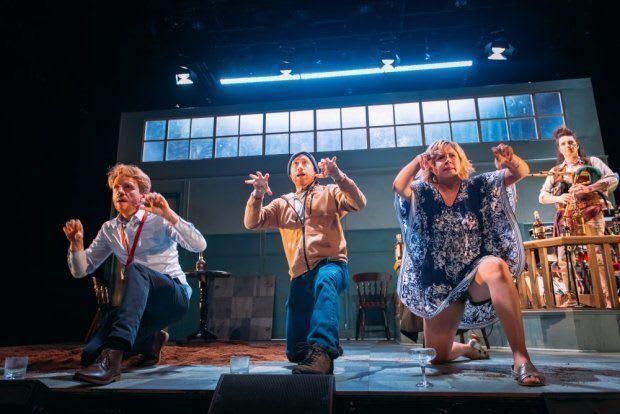 An unholy alliance between The TEAM and the National Theatre of Scotland bears far more of the characteristics of the ground-breaking experimental American company than their counterparts from this side of the Atlantic.
The 110 minutes start with the two Scots in the cast, Brian Ferguson playing a man with his own name and Sandy Grierson as Iain, discussing a calibration of Scottishness.
As his friend makes painfully clear, the former is on weak ground, having sold out by relocating to London and procuring a respectable, if dull job.
The arrival of The TEAM's Jessica Almasy as Red, a holidaymaker from West Virginia via Jamaica, adds an extra dimension.
Accompanied by a musical trio, the group sets off on a road trip that becomes a mental exercise, as they appear to be simultaneously travelling in the Highlands and the West Virginian hills. This leads to a series of minimalist dramatisations, as the trio attempts to reach some concrete conclusions.
This piece has many strengths, especially in its efforts to compare and contrast life in Scotland with the equivalent experience in the remoter areas of the United States.
Where it falls down, as with so many devised pieces, is in lacking focus, sometimes drifting with little purpose before finding its way again.
An ideal compromise might have been the Out of Joint methodology whereby the raw material created by actors and director is given to a playwright for a few weeks to obtain a fully coherent text.
That may be the way that Rachel Chavkin and co at The TEAM work, but, while their work often sparkles, on this occasion the important messages of the text do not come across with the clarity required by Festival audiences.
Reviewer: Philip Fisher