Apariencias
Direction, original idea and choreography Eva Yerbabuena
Flamenco Festival London 2017
Sadler's Wells
–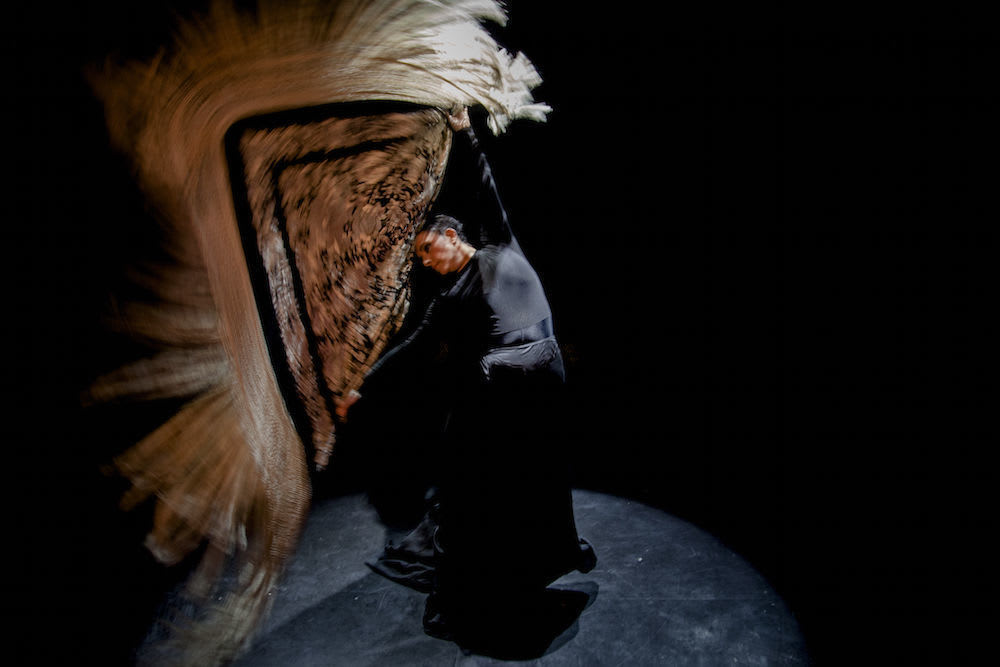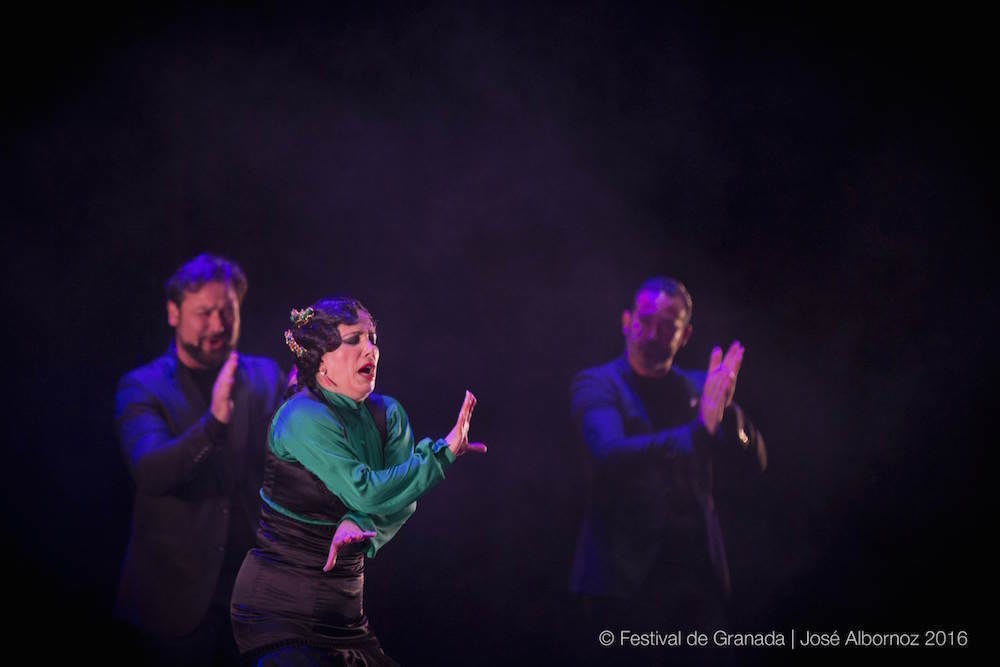 Dramático (in capitals) is the word that plays in my brain throughout Eva Yerbabuena's Apariencias. You don't have to understand Spanish—my companion wishes for surtitles to the songs she is interpreting—just read the bodies, listen to the sound, see the emotional eloquence of its ninety-minute arc.
A bald woman stands alone under a centre spot—is she a cult priestess?—she reminds me of Lindsay Kemp… An oppressive electronic noise takes residence in one's ears and heavy beats pounds. Young men, bare-chested, in long split skirts, warriors, flagellants perhaps, acolytes, appear out of the darkness. I'm trying not to think Chippendales…
Is this some Semana Santa? Is religion in for a beating? Another bald woman appears in a dress of many colours. Ghostly white skeletons are sketched on the black backcloth. I see where this is going. Dance as poetic exorcism. It's a metaphysical meditation on mortality.
And on modern hypocrisy… A male is posed to the side in long white skirt that turns into a semi-circular cape, the canvas, the screen, on which are projected kaleidoscopic images of war, refugees, and high finance, gold bars, money, organised religion—toned dancers and bombed towns. Apparitions all, which will go the way of the flesh… The singers sing a lament.
Next she is a woman in black with a huge ivory shawl that could serve as a shroud. The beat is rapid, the shawl a shimmering veil. A man comes for her in a mask—is he death? There's something Federico García Lorca about it. Masks abound in many of the numbers—on knees, hands, feet, and back of the head. I think of Frida Kahlo, of Christopher Bruce's Ghost Dances.
A sequence of chapters reflecting on life, stripping away appearances, getting to the heart of existence, giving feelings and emotions free rein, Apariencias is episodically moving. Feet and voices, palmas and complex syncopated beats come together as one in essential dialogue. The songs speak of death, longing, and life's drama.
Yerbabuena dances as if her very life depends on it. Her male dancers, now in medieval tunics, perform beautiful solos, jazzy, modern and meditative mixed with the traditional. A narrative is struggling to fight its way through the symbolism.
Singers and musicians take as much centre stage as the dancers—percussionist Antonio Coronel, guitarist Paco Jarana, singers José Valencia and Alfredo Tejada, and spectacular African-Portuguese guest singer Alana Sinkëy (carrying a skull) underpin Yerbabuena's vision of "the soul, the body, the city".
Lighting (Fernando Martín) pinpoints the action, painting lace patterns on the floor, shifting our attention, but it's the final number, a long exhausting soleá, which Yerbabuena calls "Too much loneliness…" that brings the house down. Reaching into a well of Spanish experience and dramatic art, her rapport with the audience is personal and intense.
The soleá, an introspective dance of solitude that speaks loudly, epic in its humanity, imperious in expression, is her speciality: this little gitana in black gives us her soul, on and on her feet beat in competition with the music, faster and faster, almost in a frenzy.
A five foot tall bundle of fire, is it too soon to call Eva Yerbabuena a legend—superstar she is, twenty years creating her own original deeply researched and considered shows. Production values high, this is very much a flamenco contemporáneo show of exceptional quality.
Quoting from her mission statement: "nothing is more contemporary than the flamenco as such". She aims to "contextualize the appearance of what we consider flamenco and deepen the very essence of flamenco to feel and meet her own freedom."
Reviewer: Vera Liber