Apollo / 24 Preludes / Aeternum
Choreography by George Balanchine, Alexei Ratmansky, Christopher Wheeldon / Music by Igor Stravinsky, Fryderyk Chopin, Benjamin Britten
Royal Ballet
Royal Opera House
–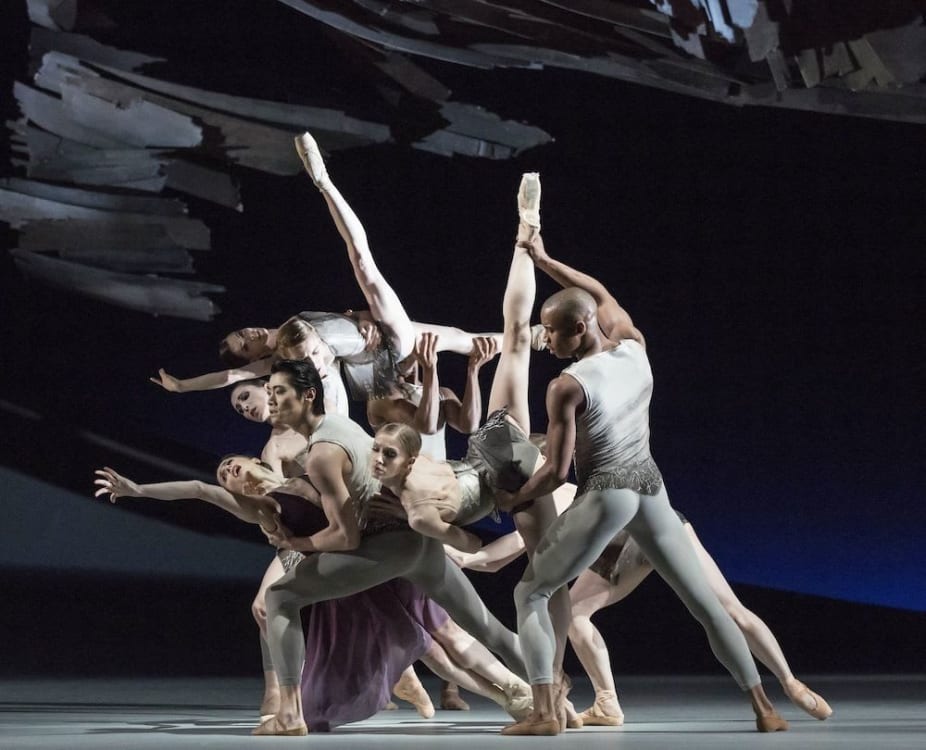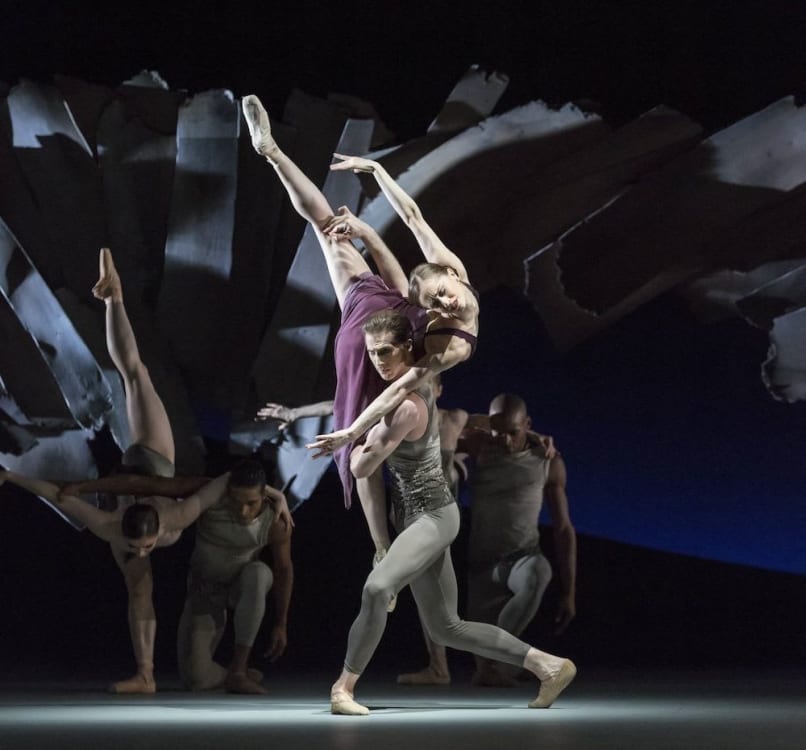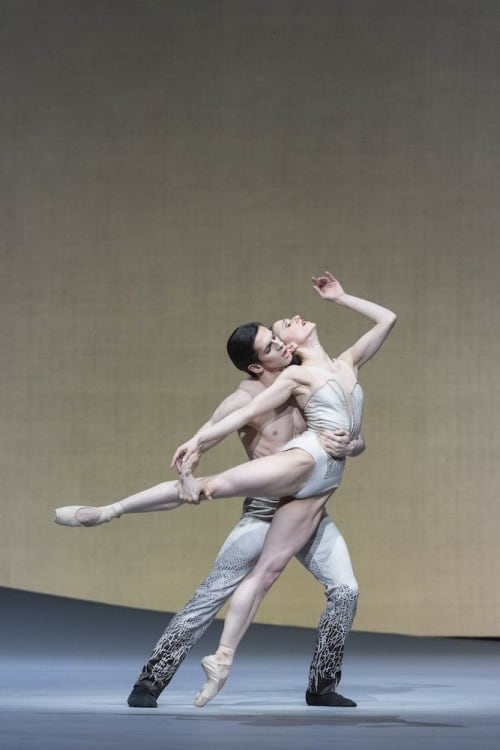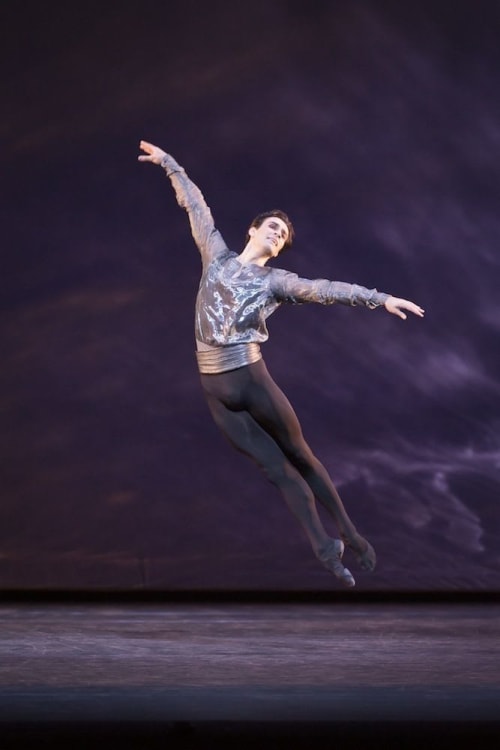 Two eagerly anticipated world ballet premières in one evening doubly tested by following Balanchine and Stravinsky's Apollo. Apollo the lyre player, whose music leads the dance, sets a high benchmark—will Wheeldon and Ratmansky attain his Olympian heights?
Apollo, the making of a sun god, from his birth in a shaft of bright light to his first tottering Nijinskian faun-like steps as he emerges from his cocoon, handmaidens unwrapping his swaddling clothes, to his apotheosis.
Three muses nurture and tutor, cradle his head: Terpsichore (dance), Polyhymnia (mime), and Calliope (poetry and eloquence). Playful wit and solemn poise find common cause in the choreography and music, a match made by the gods.
Calliope's (Olivia Cowley) mouth spouting poetry, Polyhymnia's (Itziar Mendizabal) dramatic mime, but it is graceful Terpsichore (Marianela Nuñez) to whom Apollo is drawn most.
Their fingers touch and he grows visibly in stature, a pas de deux confirming his choice. It helps, of course, that Apollo is Carlos Acosta, sculpted body, open hands reaching to the sky to receive his due. At his service, the three muses are now his to command.
An inseparable white-clad quartet, arms entangled, the Muses arabesque legs a corona above Apollo's head, breaks out in superb solos, ice-cool adagios, sculptural and Greek vase poses against a vivid blue sky.
Stravinsky's Baroque chords carry Apollo to the mountaintop, but women, stepping stones of women, raised him to his place. His mother gazes on in awe.
Balanchine's neoclassical work for Ballets Russes, his first collaboration with Stravinsky, premièred in 1928 when he was only twenty-four, just four years after joining Diaghilev's company, and a year before Diaghilev died.
Eighty-five years later, fellow Russian, former artistic director of the Bolshoi Alexei Ratmansky, currently artist-in-residence at American Ballet Theatre, has chosen to celebrate the joy of dance in his first choreographic work for the Royal Ballet, and doesn't know when to stop. Without sounding ungrateful there is just too much of it.
Curiously selecting Jean Françaix's orchestrated version of Chopin's 24 Preludes, piano preludes in 24 keys, Ratmansky spins Chopin's poetic sketches into drawn-out virtuoso dance, but Chopin's piano mood poetry is dissipated in orchestration.
A plotless ballet in essence, a sequence of connecting short scenes (some very short) makes a narrative of sorts. In solos, duets, trios, quartets, in multiple permutations, in the light of day, early dawn, autumnal glow, or dark of night, stories and emotions emerge.
Four couples—and what a star cast—play out these emotions, show off their moves, Neil Austin's lighting design shading their elations, dramas, conflicts, partings and sweet sorrows, Colleen Atwood's glimmering costumes, metallic greys and purples complementing the meteoric backcloth and mercurial dancers.
Light-hearted and fleet, Ratmansky showcases the talents and personalities of his handpicked cast: Alina Cojocaru and Steven McRae dazzle with speed and weightlessness; Sarah Lamb is spring itself; Edward Watson all angst and quicksilver mood changes: Zinaida Yanowsky and Rupert Pennefather noble and dignified; tall Valeri Hristov attentive to the tiny Leanne Benjamin.
Strings, flutes, lyrical, romantic, heavy chords and troubles form. Women dance in bucolic innocence; men in bravura show. Are these parents seeing their son depart? He can't wait to leave. Urgency, danger, a drama, or is this a hymn? The drums of war? A celebration?
Flourishes and sweeping dance, but the elegant lady next to me slept through it all. Flawless fun dance begins to drain the energy at forty minutes. However beautiful the dancers and the choreography Russian exuberance and generosity can become excessive and overwhelming.
Royal Ballet Artistic Associate, Christopher Wheeldon's newly commissioned work Aeternum is half the length, and all the better for it. Benjamin Britten's Sinfonia da Requiem op. 20, its doom-laden score influenced by Stravinsky and Mahler, is a fine match for Apollo.
Seventeen dancers, in solos, duets and trios, group in a Kenneth MacMillan rite of passage. Marianela Nuñez, the symbol of war and the image of George Clausen's Youth Mourning, weapon and comforting angel, leads them into battle and to the sleep of the dead.
James Hay's solo as a soldier in dirty red trimmed vest and pants is brilliant in the middle section; Marianela Nuñez, partnered by Nehemiah Kish and Federico Bonelli in her two incarnations, a figure both austere and full of pity.
Drums, cellos, trumpets sound the end of days, and Jean-Marc Puissant's vast abstract sculpture of broken timber feathers that hangs like Damocles' sword over the action, dwarfing the dancers, catches the essence of Paul Nash's war paintings. Britten's pacifism is honoured in his centenary year.
Reviewer: Vera Liber