Apologia
Alexi Kaye Campbell
Bush Theatre
(2009)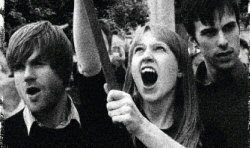 Actor turned playwright, Alexi Kaye Campbell, scooped the pot in last year's awards for Best New Play with The Pride Upstairs at the Royal Court. His follow-up was therefore eagerly awaited.
Apologia is set in the Peter McKintosh designed, well-furnished kitchen of Kristin, an art historian and failed mother played by Paola Dionisotti. It is her apologia (or justification) for some 1960s attitudes that we have come to witness, attitudes that seem cruel in the harsh eyes of a new generation.
In two and a half hours, several legions of chickens come home to roost, led by her two sons and their partners, with flames fanned by a gay friend who has a wicked sense of the ridiculous.
The first arrivals are Peter, Tom Beard in the role of a glum, born again banker, and his sickly-sweet American girlfriend, Sarah Goldberg playing the kind of enthusiastic Christian who appears to have been reared on excessive doses of Prozac.
If this couple is programmed to bring out Kristin's barely concealed Communist credentials, her other son's lover, Claire takes them to a new level.
Nina Sosanya plays a well-paid soap star with pretensions, describing her programme as "a clever and profound piece of television", much to the amusement of all, on and off stage.
Claire's private life is a problem, as John Light's Simon is on the verge of a nervous breakdown. The actor is scarily convincing in a scene after the interval, as he re-lives the night when his troubles started.
Philip Voss, as Kristin's gay soulmate Hugh, repeatedly threatens to steal the show and gets the night's funniest line, delivered with wry aplomb.
This is a play fizzing with so many ideas that, at times, it has the feeling of the kind of soap opera that the writer abhors, although they are often explored in long diatribes that would not pass muster in EastEnders or Corrie.
Alexi Kaye Campbell is still finding his feet as a playwright and, too often, his characters seem manipulated to serve his own purposes with too many clunky entrances and exits required to get the right combination talking to each other.
The balance between comic characterisation and worthy, if sometimes overly-long, speeches, is also not quite there yet. However, the core subject matter, which harks back to the legendary Philip Larkin caution about parents and their affect on offspring, is explored with sensitivity and some depth.
Reviewer: Philip Fisher