Approaching Empty
Ishy Din
Tamasha
Kiln Theatre
–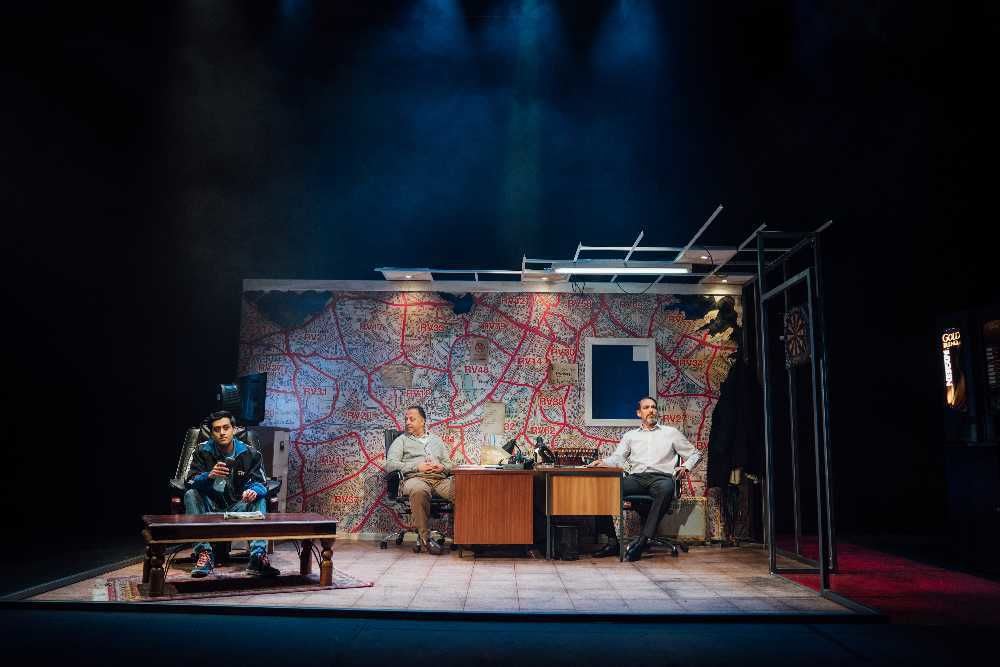 For the first half of a running time of a little over two hours, Approaching Empty looks very much like a British version of August Wilson's masterpiece Jitney.
Both plays are set in the offices of seedy cab companies struggling to pay their way, each run by members of minority communities.
In this instance, the events unfold amidst the trials and tribulations of a group of first/second generation Pakistani immigrants in the north east of England, judging by the accents.
As with the Wilson, generational issues create significant tensions, as the older folk represented by Nicholas Khan as owner Raf and manager Mansha, played by Kammy Darweish, begin to find their authority challenged.
Compounding the problems, the arrival of feisty Rina Fatania's Sameena—not just a working woman, still quite possibly the exception in this first/second generation Pakistani immigrant community, but also an ex-con—leads to additional stress.
However, when the chips are down and Mansha has the opportunity to realise a dream by buying the business from his best friend, Sameena takes up the challenge thrown down by the aspiring businessman's son-in-law Nicholas Prasad as Sully, their eyes lighting up at the prospect of responsibility and imagined riches.
After the interval, the play takes a very different turn, dissolving into something between a low-budget gangster movie and a black comedy after the arrival of a hard man determined to right wrongs, with the eventual goal of enriching himself regardless of the human cost.
An added element is the death of the late Lady Thatcher, which hints at a cynical view of early 21st-century capitalism. This dimension is borne out by the successes and failures as the evening moves towards its closure.
The promise of an in-depth if microcosmic exploration of Pakistani regional communities in Britain today, along with an attack on greed, undoubtedly makes for a fascinating stage production.
However, while the ambition is there, rather than follow through on this opportunity, Approaching Empty moves away from a laudable goal into the realm of the run-of-the-mill comedy thriller, which is a pity as what starts out as a highly promising and challenging evening finally represents a missed opportunity.
From the Kiln, Approaching Empty tours the country. Details are available on the Tamasha website.
Reviewer: Philip Fisher