April in Paris
John Godber
April in Paris Ltd, JAM Pictures Ltd and Derby Theatre
Richmond Theatre
–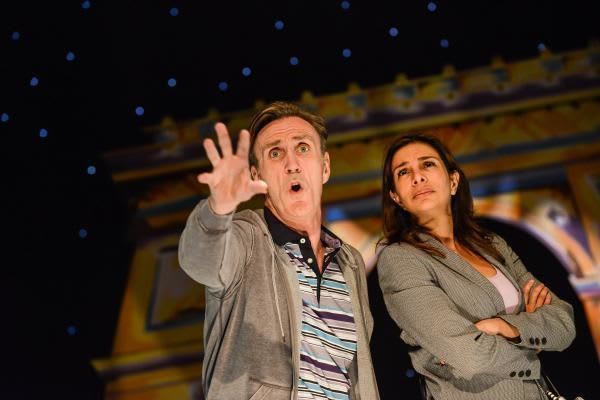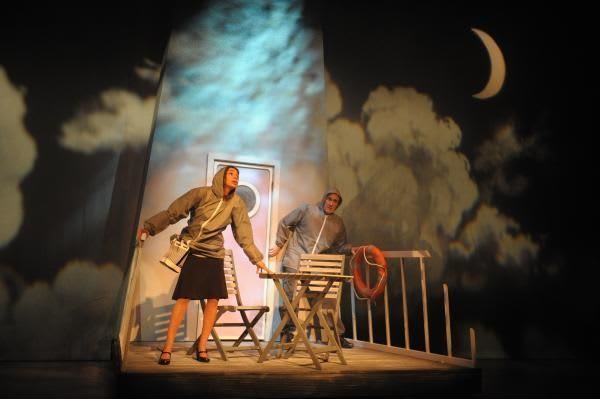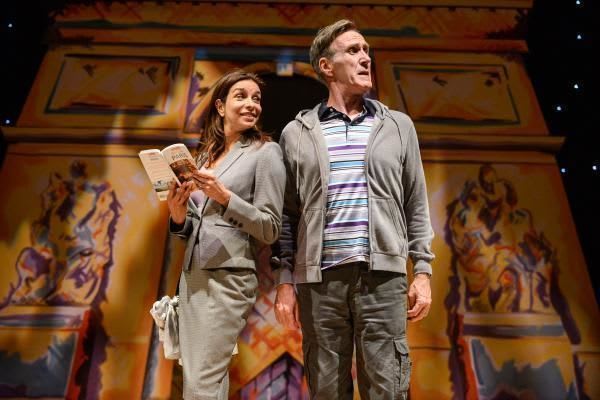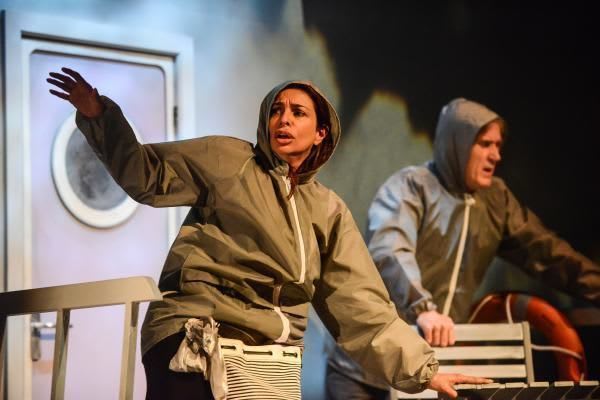 For this revival, mounted at Derby Theatre and now touring, writer/director John Godber has updated his 1992 comedy about a northern couple making their first trip abroad.
Things haven't changed much in the intervening period. While the affluent may jet off for a weekend in Prague or take a month off in Mauritius, there are still plenty who have never crossed the Channel and in-built English xenophobia is fuelled by the noticeability of immigrants. Sadly, things seem to be just as bad, or maybe even worse, on the economic front in Yorkshire.
Building worker Al has been out-of-work for ages, his wife Bet had only five customers all day in the shoe shop in which she works and there's one more shop on the high street gone out of business. How long will her job last?
They are watching every penny. After 27 years of marriage, things have gone stale. A newspaper survey says most working class men would rather have a pint in the pub than make love to their wives—and she says he is one of them. He is full of frustrations. She has seriously thought of killing him; only the possibility of going to prison prevented her.
Al paints as a hobby, his monochrome pictures all of depressing industrial landscapes. Bet is besotted with magazine competitions. She's won some small things in the past, now chucked out or consigned to a cupboard, but now she's excited to get a letter saying she's won a trip for two to Paris.
It's a night crossing from Hull, a four-hour coach ride from Zebrugge and one night in a hotel near the Madeleine then back across the Channel the next night, but she finds it thrilling. He says he's not interested. She says she'll go with her sister but he relents, and so they both end up on the boat where she's trying not to throw up—he's already taken all their seasickness tablets.
Joe McGann and Shobna Gulati are perhaps just a little too real as Al and Bet, their problems too painful to be funny, especially when watching them in somewhere as prosperous as this London borough. There were moments when I felt a little guilty that I was laughing at, rather than with, them in a way I wouldn't have done if I'd being seeing it on their home territory.
That probably says more about me than about this production. With the second act and a colourful set of Paris landmarks, the atmosphere becomes much lighter and the picture of the awkward Brit abroad more general. Who hasn't had a bit of a surprise when first encountering steak tartare or sometime walked too far rather than risk a transport system they don't understand?
We all know a bickering couple like these two (may even be half of one) and Godber's lively production (with Emma Keele and Robert Ashcroft manipulating the scene changes in mock Marceau mime) nicely handles the move from domestic angst to a new, more open approach to things.
Taken out of their humdrum familiar environment, Bet, and Al even more so, gain a growing understanding of the world, extending their interests and horizons. That is really what this play is about. It is not a condescending laugh at northern naivety or working class prejudices but a reminder of the potential in all of us if we are given the opportunity to develop it. In the end it sends you home laughing.
Reviewer: Howard Loxton