Arcadia
Tom Stoppard
Nottingham Playhouse Theatre Company
Nottingham Playhouse
–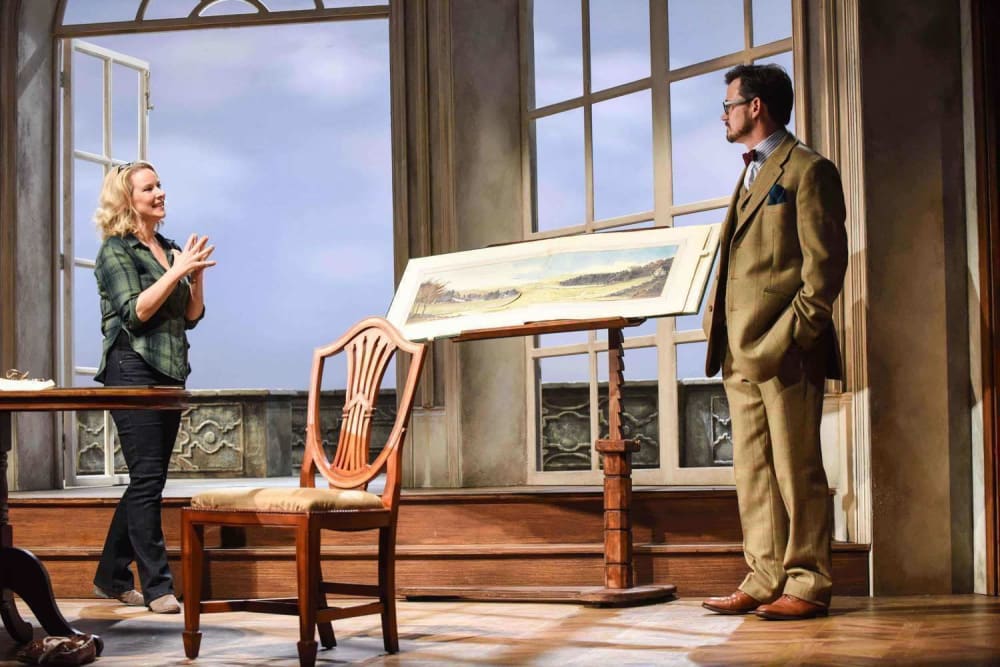 Nottingham Playhouse's artistic director Giles Croft has a passion for Tom Stoppard's Olivier Award-winning Arcadia; Croft was one of the first people to read the play when he was literary manager at the National Theatre.
In his 15th year at Nottingham Playhouse, Croft is choosing to produce Arcadia because "it's an intellectually stimulating play, a good story—a piece of detective fiction and emotionally very engaging".
Arcadia is the third of three plays in the theatre's Time and Memory season after Peter Arnott's Propaganda Swing and J B Priestley's Time and the Conways.
Arcadia is set in Sidley Park, an English country house in Derbyshire, and takes place in both the early 19th century and the present day. The action moves seamlessly from one to the other as the play uses history, mathematics and physics to examine whether truth changes.
The play opens in 1809 when 13-year-old Thomasina, a mathematical and scientific genius, wants to know from her tutor Septimus Hodge the meaning of "carnal embrace". It soon becomes apparent that Septimus, a friend of Lord Byron, has carnal knowledge of several older women although at that stage he has no interest in the teenager.
Croft's production has an excellent start, with recent RADA graduate Parth Thakerar producing a captivating performance as Septimus and Emily Laing in her professional stage debut, giving us a spirited, precocious Thomasina.
The production becomes far more complex when the setting moves to the present day. Best-selling author Hannah Jarvis, who has written a book about Byron's mistress Lady Caroline Lamb, is investigating a hermit who lived in the grounds of Sidley Park while literature professor Bernard Nightingale is researching a theory that Byron killed one of the earlier inhabitants of the house, Ezra Chater, in a duel.
Intense concentration is required as the intellectual gravity intensifies. However, sterling performances from David Bark-Jones as a self-important, supercilious Bernard and Teresa Banham as a more compliant, rational Hannah ensure the enjoyment takes a different form.
There is another promising debut by Florence Roberts as Chloe, the 18-year-old whose ideas are not quite as earth-shattering as Thomasina's but lead to similar meaningful discussions.
The final scene takes place in both 1812 and the present, with the action happening concurrently. It ingeniously brings everything together, with order somehow being found in the unfolding chaos.
Croft directs astutely. His in-depth knowledge of the play—particularly with the way it resonates with East Midlands audiences—ensures that Stoppard's intricacies of philosophy, classicism, romanticism and the irreversibility of time are dealt with sensitively and imaginatively.
The set by Madeleine Girling, winner of the Linbury Prize for Stage Design 2013, is stunning; the splendour and grandeur of Sidley House strike you as soon as you enter the auditorium.
Arcadia will not appeal to everyone; one theatregoer sitting near me did not return for the second half. Running at three hours including the interval, the play calls for deep reserves of concentration and application. But the end product is well worth it.
Reviewer: Steve Orme