Arcadia
Tom Stoppard
Duke of York's Theatre
(2009)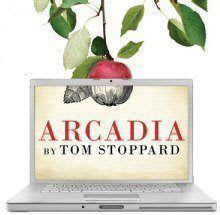 Arcadia is a play about genius written by a man who is The Real Thing. David Leveaux' revival of Sir Tom Stoppard's 1993 exploration of mathematics, love and literary detection seems as fresh now as it did sixteen years ago at the National.
The latest cast under Leveaux, a bit of a Stoppard specialist whose recent successes have generally been on Broadway, have a lot to live up to, as Sir Trevor Nunn was able to call on the likes of Felicity Kendal, Bill Nighy and Rufus Sewell.
Hildegard Bechtler's set comprises an unadorned room in Sidley House, the Derbyshire stately home of the Coverly family, alternately seen exactly 200 years ago in 1809 and today (or possibly 1989).
Ignoring the efforts of the contemporary academics to reinvent the past, the correspondences between characters, ideas and events are notable and often prove enlightening.
The central characters in George III's time are Septimus Hodge, a handsome tutor played by Dan Stevens, and his 13 year old pupil, the prodigiously clever Lady Thomasina. Highly promising stage debutante Jessie Cave plays a mathematician who could compete with Newton and was around six generations ahead of her time, while still retaining some of the naivety of a little girl.
In addition to education, the oldies also get up to love, causing a furore that not only affects the charming Nancy Carroll's increasingly frustrated Lady C but also Lord Byron. It also allows George Potts to deliver a lovely cameo as the cuckolded minor poet, Ezra Chater.
Byron is the link with the future, as the scandalous poet's name makes a sleazy self-important Don, Neil Pearson as Bernard, more excited than the flirtations of Lucy Griffiths playing cute 21st century daughter of the house, Chloe.
Bernard doesn't get things all his own way, as another academic with far more rigorous standards challenges his version of historical reality. Samantha Bond cleverly balances intelligence, sexual frustration and fight as Hannah. This is a woman who always seems likely to win at the end of the day but then right doesn't always come out on top when Lord Byron (and the press) are in play.
Hannah is aided in her quest for historical justice by the family's latest geeky mathematician, Valentine, on this occasion portrayed by Ed Stoppard, the playwright's son, who belies any suggestion of nepotism with a dryly comic but sensitive performance.
If this sounds heavy intellectual fare, one need not worry as this writer's greatest skill is in leavening learning with streams of jokes that never lower the tone but always score bullseyes. He also knows how to structure and work a plot to perfection, so that every major loose end is tied before a satisfying, if bittersweet denouement.
The producers must be thanked for this well-cast revival of a great play that challenges its audience then rewards them. It deserves to have a long and very profitable run.
Booking until 12 September
Visit our sponsor 1st 4 London Theatre to book tickets for Arcadia
Reviewer: Philip Fisher