Ariadne auf Naxos
Richard Strauss
Welsh National Opera
Mayflower, Southampton, and touring
(2004)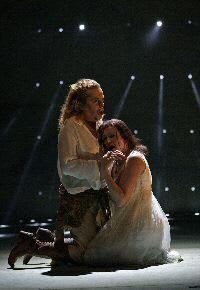 Ever since Shakespeare, if not before, actors have often found an extra sparkle for a drama about the theatre!
Whatever the root of this je ne sais quoi, it was evident in Welsh National opera's performance of Richard Strauss's Ariadne Auf Naxos at the Southampton Mayflower where a less than full house nevertheless delighted in the back stage tantrums of rival opera and vaudeville companies charged with the unlikely task of mounting their productions simultaneously!
Enjoyment is certainly not hindered by the return to the cast, after indisposition, of Alice Coote, as smart a "youth" as we are likely to see or hear in the role of the precocious opera composer.
And since, for Richard Strauss, one leading soprano is never enough, there are here three including also Janice Watson, a sad but most satisfying Ariadne, and the Polish coloratura, Katarzyna Dondalska whose high Cs as Zerbinetta are enough to rattle the shelves in the Mayflower bars!
When Bacchus, in the form of Peter Hoare arrives, deus ex machina, the scene appears set for the most extreme of operatic send-ups. Instead, of course, Hoare and Watson embrace splendidly in one of the composer's most delightful finales.
Director Neil Armfield draws any amount of fun from this unlikely blending of meta theatre and classical Greece with Dale Ferguson's settings a mixture of normal back stage clutter and some old amateur operatic cloths found in the wings.
Reviewer: Kevin Catchpole