Arms and the Man
George Bernard Shaw
Salisbury Playhouse
(2006)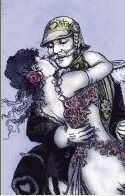 Not having seen Oscar Straus's musical adaptation of Bernard Shaw's Arms and the Man, I can only imagine it in terms of Sunday night performances by the Grand Hotel orchestra with a distinguished soprano warbling "My Hero" to deafening applause from the studio audience.
Yet whenever I encounter the original, an early Shaw play some twenty years before Pygmalion, I cannot resist the thought of uniformed ranks performing antiquated musical routines around famous singers!
Christopher Luscombe's new production for Salisbury Playhouse is no exception. The attractive Olivia Darnley (Raina) is sure, I feel, to produce an excellent soprano opposite the imagined baritone of Guy Lankester (Bluntscli) with the impossible Sergius of Damian Kell in tenor range while Helen Cartwright (Catherine) sings a formidable contralto to Lisa Diveny's mezzo-gypsy Louka!
All impossible, of course, especially in view of Shaw's known antipathy to the plagarisation of his work by Straus and his librettist Stan Stanger. With or without music, however, Arms and the Man is light, cheerful stuff and try though he may to impress us with his aphorisms, Shaw cannot resist the mischief of Victorian situation comedy.
The Balkan war of 1885 may lack the pageantry of Shakespeare's drama and the grimness of our own sacrifices to come, yet Shaw's characters reveal a cynicism ahead of their time. While a young Saranoff is making a fool of himself at the head of his cavalry, the veteran Bluntschli has swapped his cartridges for mint creams.
Lankester's reading of Bluntscli is tight but never too sombre, while Kell is a nicely ridiculous but never farcical Saranoff. Olivia Darnley is also a splendidly headstrong Raina, though she may regret matching her mother's matronly shouting later in the run.
Robin Cameron (Nicola) and Lisa Diveny (Louka) need to make more of the admittedly limited opportunity Shaw gives them but there is a splendid touch of faded grandeur from Col Farrell as old Petkoff.
If Janet Bird's settings do not quite match the claims to prosperity voiced by the Petkoffs, they do bear signs of the ravages of war with stars and birdsong, both redolent of later Balkan conflict.
The production continues until Saturday 25th February.
Reviewer: Kevin Catchpole