Around the World in 80 Days
Laura Eason, based on the novel by Jules Verne
St James Theatre
–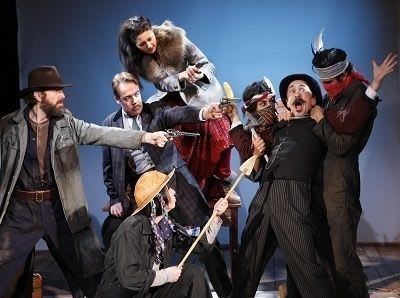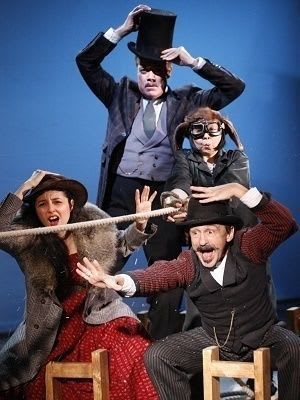 Many readers probably dread the prospect of taking unruly, bored (grand)children to the theatre during the festive season. The fear of watching a c-list celebrity in yet another sub-standard Aladdin or Cinderella could lead to sleepless nights.
Pleasingly, there are still shows like Lucy Bailey's determinedly traditional staging of Jules Verne's classic novel in a new version by Laura Eason to fall back on.
It seems a sure bet that the youngsters will be swept up by the old-fashioned thrills and spills, while older generations will get more than enough laughs before what seems like a counter-intuitive ending for a Yuletide show.
The running time is exactly right as well, since the company manages its global circumambulation not in 80 days but 120 minutes, including a welcome drinks break in the middle.
Designer Anna Fleischle pulls out all the stops without using new-fangled computerized images or props in a delightful example of timeless theatrical charm.
The actors work hard too, operating props with alacrity and supplementing excellent comic timing with physical stage skills that never let the side down.
The plot is simple. Robert Portal's Phileas Fogg, an archetypal Englishman, his stiff upper lip never quivering, bets a trio of drinking chums that he can complete the trip of a lifetime in the designated period, armed with little more than Bradshaw's Guide (to trains and steamboats).
As a start, he recruits a new manservant, Simon Gregor as the irrepressible Parisian Passepartout. Gregor is one of those rubber-limbed clowns who should come with a health warning since any other performer is likely to be rendered invisible in his presence, such as this versatile actor's gift for comedy.
As the pair treks around the world avoiding a stream of inexplicable obstacles to meeting their goal, the gifted creative team uses small, low-budget and low-tech touches to give the feeling for the relevant exotic location at any time.
Many of these are cleverly memorable with a few that really stick in the memory including an Indian elephant and funeral pyre, a Cowboys and Indians battle straight out of a Wild West movie and stormy night on the high seas.
The storytelling is inventive, with added spice introduced by two additional characters. Tony Gardner is a good straight foil in the lugubrious role of Inspector Fix, a far from bright Scotland Yard policeman who believes that Fogg has robbed the Bank of England.
Far brighter (in every sense) and more romantic is Shania Rafaat's Mrs Aouida, the sacrificial widow rescued from her husband's funereal flames and swiftly taking on the role of the play's female lead.
Around the World in 80 Days is hardly cutting-edge but it presents its audience with an enjoyable evening of good, old-fashioned fun for all the family.
Reviewer: Philip Fisher