Arrivals and Departures
Alan Ayckbourn
Stephen Joseph Theatre, Scarborough, in association with Guildford's Yvonne Arnaud Theatre
Yvonne Arnaud Theatre, Guildford
–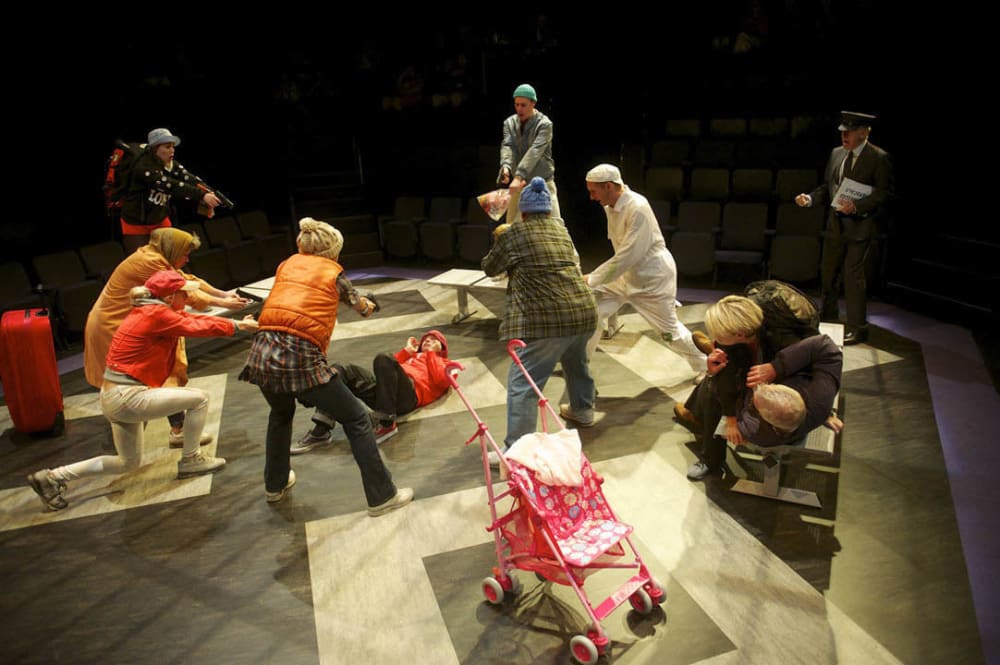 Each year at Guildford, we are treated to both a new and an old Ayckbourn play, and this year we have no fewer than four which are grouped under the title of Ayckbourn Ensemble and take place over the course of a week.
The 1992 play Time of My Life came first: a family dinner party which may have been the happiest time of their lives for those concerned, before the action zooms backwards several years leading up to the occasion and then forward a couple of years with events which happened later. All a bit confusing until you sorted out what was happening.
Arrivals and Departures is the new play, a world première production, and amazingly the 78th the prolific Ayckbourn has written. The synopsis sounds very similar to that in a Sherlock Holmes board game called 221B, and very intriguing.
At a London mainline railway station an elaborate trap is deployed in an attempt to capture a dangerous and elusive terrorist, code-named Cerastes. Major Quentin Sexton and his hand-picked SSDO (Strategic Simulated Distractional Operations) Unit are poised, ready to pounce. To assist them, civilian witness Barry Hawkins and his 'minder' Ez Swain are on hand to confirm final identification. What can possibly go wrong?
Well quite a lot as it turns out. Young soldier Ez Swain (Elizabeth Boag) is not a happy bunny, in fact downright miserable, and resists any sort of communication with traffic warden Barry (Kim Wall) who could bore for England with his non-stop talk of the weather. It is their flashes of memory which people the stage with many of the characters and events in their lives.
This involves the rest of the cast not only taking on multiple roles, but the characters they play over a period of time grow, change and age. Quite a challenge!
Ayckbourne (who also directs) has assembled a remarkable team, and they not only cope extremely well with this play, but most of them also perform in Time of my Life, (and very probably in the next two plays as well). Understudy Peter Halpin does a sterling job too, having taken on the pivotal role of the Major at very short notice.
Act two begins by more or less repeating act one with much of the same conversations, but this time with different memories, and some excitement when the terrorist is spotted, although Barry is not completely convinced. For some reason the action now takes place on the opposite side of the stage to act one. I haven't yet figured out why.
The play is a mixture of tragedy and farce—and a lot of confusion, despite the efforts of the "carefully orchestrated military operation".
Ayckbourn's plays are intended "to surprise and intrigue", and they succeed every time.
The next two plays, The Kidderminster Affair and Chloe with Love, are in a lighter style, purely fun and farce with no concentration necessary, but for me a little intrigue works much better.
Reviewer: Sheila Connor