Arsenic and Old Lace
Joseph Kesselring
Derby Playhouse
(2005)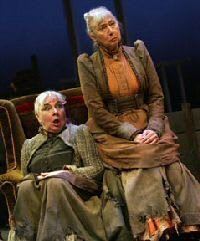 Over the past couple of years Derby Playhouse has received regional and national acclaim for some of its productions which have hugely enhanced the theatre's reputation. Many people were amazed that a compelling version of Sweeney Todd last year was on view not in the West End but in a Midlands city which is more noted for its football history than its cultural record.
Now it seems guest directors are queuing up to present their work in Derby. Joseph Alford is the latest. According to the programme, he wanted to come to Derby because the Playhouse is "braver than other theatres".
In the past "brave" has sometimes been too radical for Derby audiences, especially where comedy is concerned. The Playhouse has had mixed success with unconventional interpretations of comedy classics: Joe Orton's Loot was hilarious, Dario Fo's Can't Pay? Won't Pay! was humorous in places but Alan Bennett's Kafka's Dick, which was given a spoof treatment, was dire.
Arsenic and Old Lace details the strange comings and goings in the Brewster family home in New York, with the surreal sisters Abby and Martha literally putting their lodgers out of their misery by bumping them off and burying their bodies in the cellar.
It's a silly, almost incredible notion, which presumably is why Alford decided on a wacky approach. He prefers to examine the relationships in the family rather than concentrating on the body count as the full extent of the sisters' misdemeanours unfolds. But sometimes the comedy is obscured by Alford's vision.
The song You're Driving Me Crazy gives you an immediate indication as to what you're in for. Designer Diego Pitarch's set is on one level yet signifies a three-storey house, so this leads to all the actors adopting an individual, exaggerated pose every time they climb the stairs. It's clever and leads to some comic moments, particularly in the second half when some of the characters clash on an imaginary spiral staircase leading to the top floor.
However, because of a drawn-out first half - the opening 25 minutes before a body is discovered are quite a drag - you're left at the interval wondering whether Alford's direction is too silly for its own good.
The second half is much better and comes to life thanks to Dominic Burdess, the wayward relative Jonathan who's a Boris Karloff lookalike, and Lucien Macdougall, the surgeon Einstein who's funny without being puerile.
Overall Oliver Senton holds everything together as theatre critic Mortimer Brewster who has to make sense of all the senseless activity going on in the house; Tom Godwin gives an accomplished performance as eccentric Teddy; Helen Blatch and Geraldine Newman are comfortable as the dotty sisters; and Tim Charrington switches confidently between four parts.
Perhaps Kesselring's play, written in 1941, may not have the longevity to stand a traditional treatment. But Alford's concept isn't everyone's cup of poison. However, Arsenic and Old Lace is well acted, slickly choreographed and skilfully staged. You'll have to decide yourself whether it's to your taste.
"Arsenic and Old Lace" runs until September 17th
Reviewer: Steve Orme