Arsenic and Old Lace
Joseph Kesselring
Salisbury Playhouse
(2009)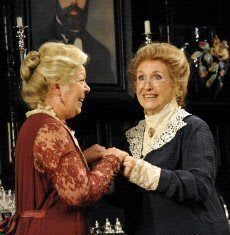 But for Frank Capra's classic 1944 film with Cary Grant, Raymond Massey and Peter Lorre, I doubt we would today recall Joseph Kesselring's comedy thriller Arsenic and Old Lace, now revived in Philip Wilson's well-studied production for Salisbury Playhouse.
No-one who enjoys this entertaining account should be surprised to learn that Wilson was, a few years ago, associate director of a West End revival of the play, for there is a certain warmth about this production that is infectious.
Perhaps the play would be more popular were it not for its requirement of a cast of fourteen players, an easy objection for those with an eye on the wage bill.
However, in several schoolboy visits to the black and white movie in the mid-forties I overlooked entirely the prominence given in the tale to Mortimer Brewster's occupation of drama critic. No other work to my knowledge deals so pointedly with this genre of journalist!
Mortimer is played with some style by Damien Matthews, no stranger to the Playhouse stage, nicely partnered by Jaimi Barbakoff as Elaine.
I would like to have seen a more heightened eccentricity about the Brewster sisters Abby (Gwyneth Powell) and Martha (Marji Campi). Certainly strangeness is abundantly clear long before the curtain but I feel they could toy with us all even more than they do.
Stuart Fox is quite splendid as Teddy Roosevelt Brewster with Steven Serlin an excellent Officer Klein.
While Christopher Ryan is thoroughly convincing as Dr Einstein, I would like to see more of the sinister quality of this character, possibly for no better reason than that I - and many others surely? - will always identify Peter Lorre with this role. Alas, that is the same theatrical price any woman pays when she essays Lady Bracknell!
No such trivial problems arise with the strong performance of David Leonard as Jonathan Brewster. Not even the shadow of the great Karloff, let alone Massey, can inhibit his sinister presence.
The excellent design is by Mike Britton and there is some truly evocative mood music by Richard Hammarton.
The production continues until Saturday 21st November
Reviewer: Kevin Catchpole