Artefacts
Mike Bartlett
nabokov and The Bush Theatre
Bush Theatre
(2008)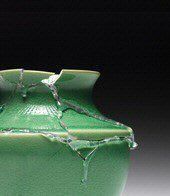 This touring co-production brings together three potentially powerful forces who should each help to form the voice of British theatre in coming years.
New writing theatre the Bush has a long tradition of discovering groundbreaking slices of contemporary life. Nabokov is best known for its work with Australian writer Van Badham but also launched Edmund White's Terre Haute, one of the picks of Edinburgh 2006, which starred the composer of this play's atmospheric soundtrack, Arthur Darvill.
They have teamed up with Mike Bartlett, creator of the chillingly memorable Royal Court play My Child, to bring us an ambitious attempt to synthesise a portrayal of British youth today and the disaster that is Iraq.
Bartlett once again shows a great ability to bring utterly believable characters on to a stage, in this case Kelly, a brash teen who has never met her father. From her opening monologue, the really impressive Lizzy Watts inhabits this hurt girl, who as a typical kid today mixes big words with underlying uncertainty.
This isn't easy for her loving single mother, Karen Ascoe's Susan. However, it is when her absentee father Ibrahim materialises that life really gets uncomfortable.
Peter Polycarpou plays the museum director from Baghdad who has five minutes to explain a lifetime that started with a desertion while Kelly was still in the womb. This would be hard enough but unfortunately, his character is, like the ancient pot that drives the action, far more a symbol than flesh and blood.
He doesn't win over his daughter when she is 16 and two years on, begs her to travel to his home for reasons that it becomes apparent are nefarious but driven by desperation. This doesn't sit well with his principled ethical stance when faced with a parental issue of biblical proportions that drives away his wife and the daughter of their marriage forever.
By the end, Ibrahim is lonely, Kelly has grown up and her step-sister Raya (Amy Hamdoon) visits London to enjoy a telling scene at the British museum.
There, over the symbolic pot, she re-lives an earlier scene to demonstrate that she is her father's daughter, a lady with a belief in posterity and history, which is a tragic fate for someone who lives in a country that is falling apart at the seams.
Nabokov like to combine character and relationship studies with political and social issues and have often struggled to get the balance between the two right. Artefacts gets some things spot on but doesn't manage to meld the different elements convincingly.
With assistance from Lizzy Watts who should have a great future, Bartlett and director James Grieve have done a tremendous job in creating Kelly and her world. However, the Iraqi element feels contrived, which is a real shame, as the idea of addressing human issues in a country constantly portrayed in the media as no more than a gigantic bomb target is compelling.
Mike Bartlett once again demonstrates that he is a prodigious talent with the ability to portray real people in difficult situations. While Artefacts doesn't come off as a fully-realised drama, it still presents moments of real tension and is a true Bush creation in the form of a sassy teen struggling with the responsibilities of adulthood.
Allison Vale reviewed this production at the Ustinov Studio, Bath Theatre Royal
Reviewer: Philip Fisher