Artifact
William Forsythe
Royal Ballet Flanders
Sadler's Wells
–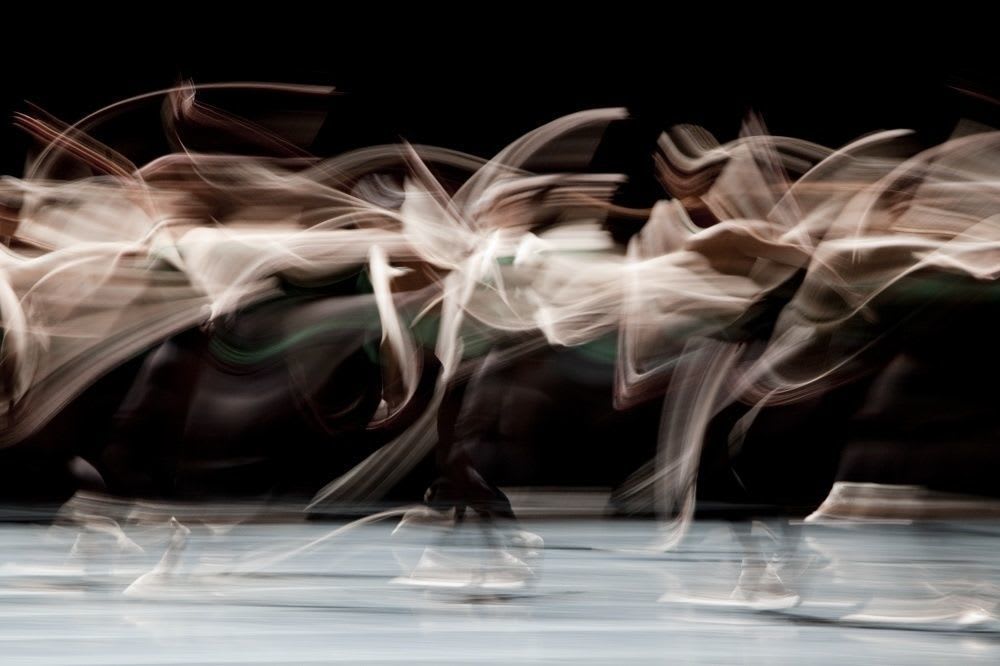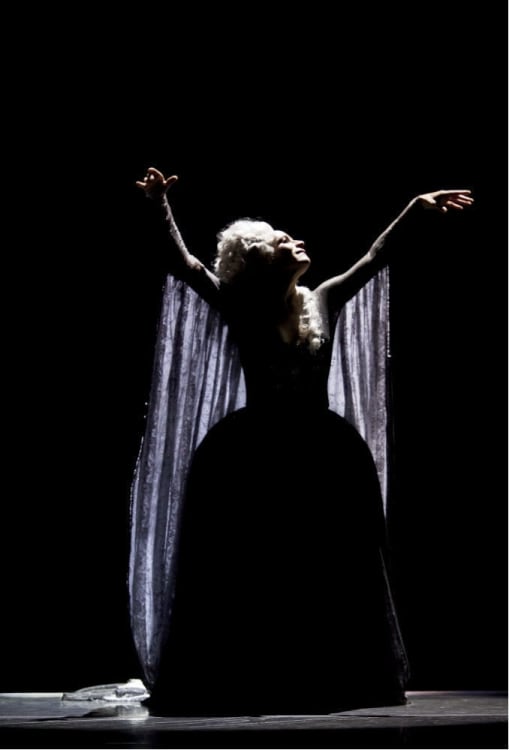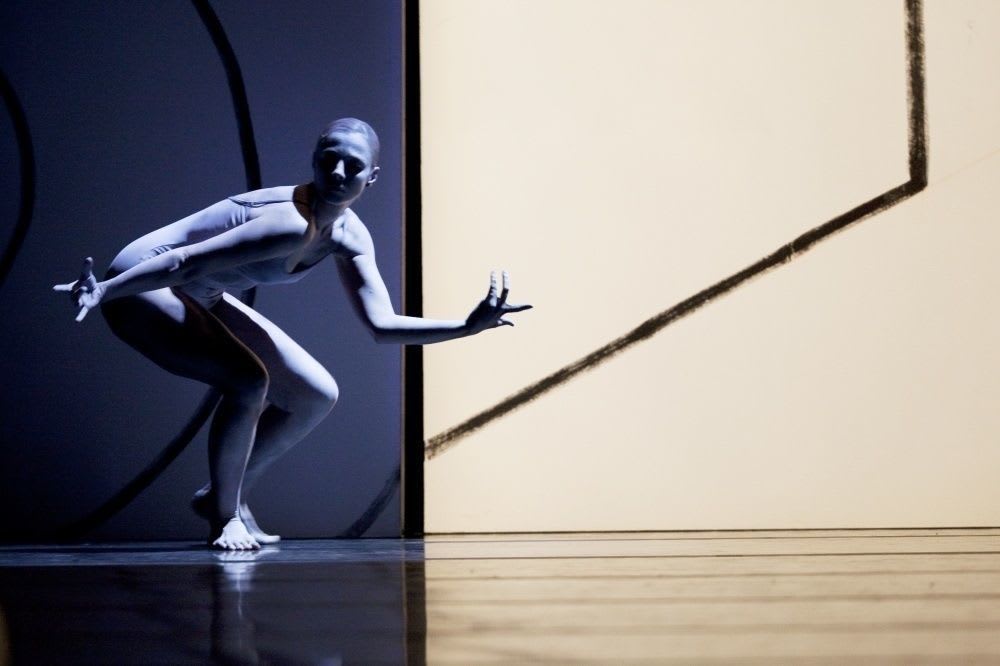 The complex four-act Artifact, made in 1984 for Frankfurt Ballett, is as fresh and innovative today as it was astounding then, an elusive theatre/dance/art installation, the vision of one man, William Forsythe, its choreographer, scenographer, lighting and costume designer. Even part of the sound collage is his.
A philosophical inquiry—in architectural layers—into the nature and history of ballet—à la recherche du temps perdu given droll Beckettian humour and mystique.
A Woman in a Historical Costume (Kate Strong) ruminates on remembering and forgetting in angry discourse with A Man with a Megaphone (Nicholas Champion). She dominates, commands, intrudes, whilst The Other Person (Eva Dewaele), pale, bare-footed, flitting across the empty stage as we are taking our seats, seems to be from another world (she rises like the lady of lake from a trap door too), yet is in charge of the forty-strong green-clad corps, as she leads them in semaphore sign language—the signifier and the signified…
What is going on in this ballet about ballet? Does one need to know the history of ballet's evolution, its roots, and the changes in épaulement to appreciate Forsythe's deconstruction and reconstruction of dance in this precise one-hour-fifty-five-minute epic dance theatre show? Understand the structure of Bach's Chaconne in D minor to enjoy the music? Forsythe deconstructs this too.
Or can one sit back and appreciate the austere patterns Royal Ballet Flanders cohort of dancers weaves in investigative formulae? Appreciate the strict form, the training, the breathtaking execution by a superb troupe of dancers (drilled by the amazing Kathryn Bennetts, sadly leaving the company in June) of choreography given intellectual heft by Forsythe's restless mind?
Do we all see and hear the same thing: a Wittgensteinian investigation into subjective truth applied to dance? We bring to the dance what we bring. Whatever we bring, Forsythe's creation overwhelms with its riches. One viewing is not enough.
Step inside, the French Masque lady in the white perruque invites, and you shall see... step outside and… And? See what you hear, hear what you see? Do you? Enigmatic, metaphysical, Jean Cocteau surreal, Alain Resnais' L'Année dernière à Marienbad, the geometry of its landscape gardens (appropriated by Peter Greenaway in The Draughtman's Contract...), with gymnastic display from healthy 1930s German and/or Russian youth…
A dusky cavernous Hollywood (given explicit reference by Eva Crossman-Hecht music) sound stage, the Wells stage is stripped to its bare black walls, trellis lit from the orchestra stalls with a row of Profile lights, searchlights crisscross and pattern the set. White and black abstract canvases, stage flats, knocked over by the hysterical Historical Woman, Dietrich, Garbo, German expressionism…
And all the while the dancers go about their business in this fantastic dreamscape, beautiful, framing, expressive bodies: two couples dance exquisite double duets, supreme in their art—Aki Saito and Wim Vanlessen, and Yurie Matsuura and David Jonathan—before the serried ranks of Metropolis workers.
But Forsythe is in total control: shutters (stage curtain) slam down, phrasing the dance in keeping with Bach's pure musical phrases. Camera snapshots, we see what he wants us to see, each time the stage picture is new, the rows of dancers in fresh frieze configurations.
Time and energy frame emotion, time and memory, time waits for no man, and neither does Forsythe—audience still in the bar, but the dancers are already on the stage before a half empty auditorium in the second half… Does an audience matter? Speeded up speech and cacophonic music… no time… no time, Lewis Carroll logic...
Is this dissonance dementia, Daniil Kharms illogic and anti-rationality, or simply the double-speed rewinding of time? Ah, this is where Wayne McGregor found his moves… hiphop rippling breaks on pointe…
Repeats and rewinds, mutterings about rocks and dust, and the dancers a forest of arms, the light catching their bare arms, radiant papillon wings giving immense joy and beauty to the dance to the music of time. They are the amazing maze framework in the dramatic pleasure gardens of dance.
Reviewer: Vera Liber