As You Like It
William Shakespeare
Royal Shakespeare Company
Royal Shakespeare Theatre, Stratford-upon-Avon
–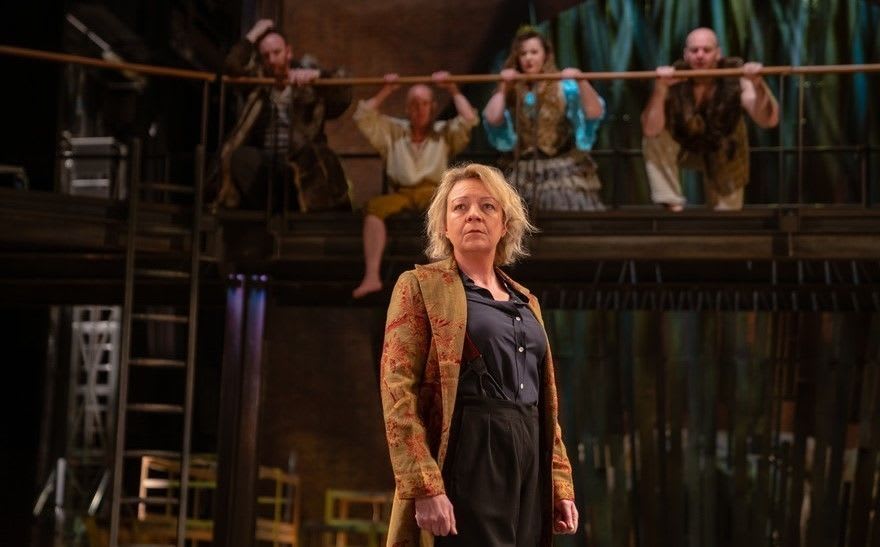 All the world's a stage, says the play, and director Kimberley Sykes has taken that judgement to provide a platform for a series of brilliant turns that almost steal the show.
In wriggles Emily Johnstone as the usurping duke's attendant, here a busty, bustling event hostess in an over-tight skirt; Laura Elsworthy brings the house down with Phoebe's love-him, hate-him speech; and Sandy Grierson's Scottish Touchstone bounds joyfully in his tartan trews.
And as for the waif-like Lucy Phelps, it's as if she's rolled as many parts as possible into her high-energy Rosalind—passionate, impetuous, comic—she and the excellent Sophie Khan Levy's Celia even mimicking the voices and manners of others.
David Ajao speaks Orlando's lines with a spontaneity that suggests they had just come into his head, his face seeming to expand into a great O at moments of surprise.
And best of all is the superb Sophie Stanton as a world-weary but dignified Jacques. I cannot remember a better.
The RSC has assembled casts for its summer season to reflect diversity, a notable example being Charlotte Arrowsmith, a deaf actress previously seen as Cassandra in Troilus and Cressida. Here she plays the dim goatherd Audrey, for which her use of sign language and facial mobility work beautifully.
The music is good too, with songs often performed review-style in a spotlight—but thereby is a clue to the show's shortcoming.
The whole thing is deliberately theatrical—startlingly so at the start of act 2 when the rear wall falls away to reveal the backstage area, actors change in full view and a manager loudly calls "Miss Stanton to the stage."
These are 'merely players' and this theme is pursued as actors repeatedly hide in the stalls, as Orlando sticks his love poems as yellow stickers on audience members and drags four of them on stage, rather breaking the momentum of the play.
Above all, in a set bare of any scenery except the gantries joining the extended circle, there is no atmosphere, no sense of the wild wood, no contrast between the false manners of the court and the mysterious forest of Arden. Indeed, the only patch of greenery is rolled up when the action decamps from the former to the latter.
It reminded me of a TV variety show—a series of hugely enjoyable acts, with little pretence at amounting to something greater. The whole is not much more than the sum of its parts, but it's great fun enjoying them for their own sakes.
The production can be seen live in cinemas on Wednesday 17 April and goes on tour from September 2019.
Reviewer: Colin Davison