As You Like It
William Shakespeare
Royal Shakespeare Company
Royal Shakespeare Theatre
–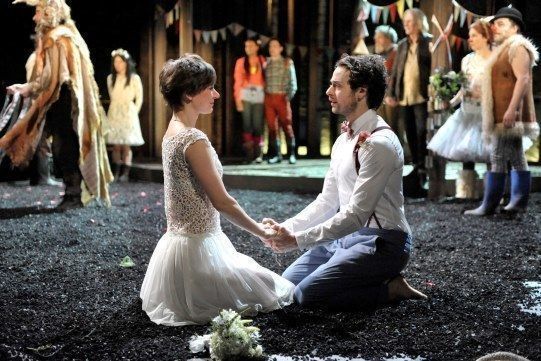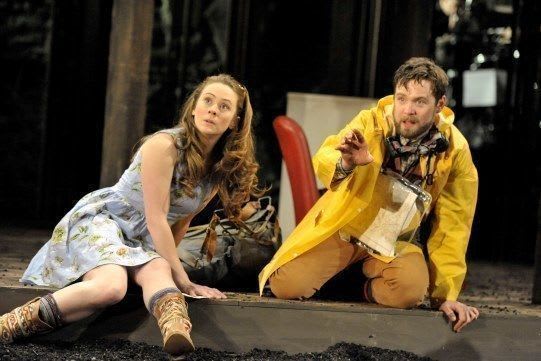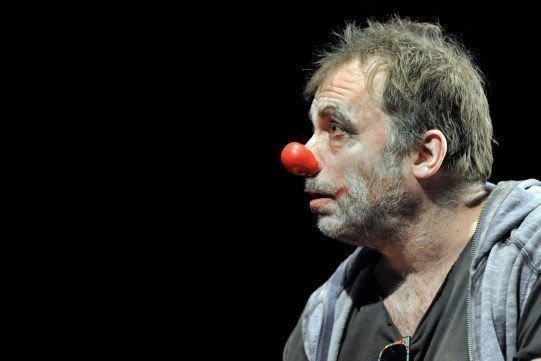 Glastonbury comes to Stratford in Maria Aberg's production of As You Like It which demonstrates that Shakespeare's rustic comedy sits comfortably in a world of singing and dancing normally associated with an outdoor arts festival.
But while the concept sometimes seems problematic, the acting more than makes up for it. Some of the performances are quite magical while others give a new slant to conventional portrayals.
As members of the audience take their seats, Orlando and old Adam the servant sweep up leaves in Duke Senior's court—making best use of people's talents is not something that the new Duke believes in.
It soon becomes apparent that the court is a scary place where everyone conforms. Here though we glimpse the first of Aberg's imponderables: subjects uniformly performing hand movements which detracts from the first serious speech between Rosalind and Celia.
There's no explanation why Le Beau, often portrayed as a foppish member of the court, has a gender change and becomes a stern woman called La Belle.
When the action moves to the forest of Arden, a fridge and a red chair are visible in a clearing, although their significance is never made clear.
But most of the acting is of the highest order, as exemplified by the main characters.
As You Like It depends on the chemistry between Rosalind and Orlando while the relationship between Rosalind and Celia also has to be credible if the production is to be a success. Here the two pairings are outstanding.
Pippa Nixon who's also playing Ophelia in Hamlet this season—her performance in the madness scene left the audience "enthralled"—gives just as satisfying a performance as Rosalind.
First a glamorous courtier, then a boyish matchmaker and finally a dashing bride, she sparkles throughout, showing an electrifying attraction to Orlando which borders on lust.
Alex Waldmann's Orlando is similarly exuberant, making the maximum of the role and not allowing the character to degenerate into a moping wimp.
Joanna Horton is faithful, feisty and frolicsome as Celia, proving towards the end that she can also show desire when she meets Orlando's brother Oliver.
Apart from the main characters, there are eye-catching performances from other members of the cast.
Nicolas Tennant's physical appearance—white face and red nose giving him the look of a music-hall comedian—might be considered a stereotype but the actor is incredibly funny.
He can raise a laugh without saying a word while his banter with the audience proves he can ad lib as well as any recognised comic.
David Fielder elicits sympathy as a careworn yet indefatigable Adam and Cliff Burnett, grey hair majestically covering his collar, is like an ageing rock star as the banished Duke.
Music by folk singer-songwriter Laura Marling, winner of the best female solo artist at the 2011 Brit awards, adds to the atmosphere.
And when Dave Fishley appears as vicar Sir Oliver Martext with long beard, dreadlocks and smoking a huge spliff, the comparison with an open-air music festival is complete.
Overall, this As You Like It may not be too popular with traditionalists—but some of the acting is powerful enough to win over any purists who have reservations about its setting.
Reviewer: Steve Orme