Hamlet
William Shakespeare
Royal Shakespeare Company
Royal Shakespeare Theatre, Stratford
–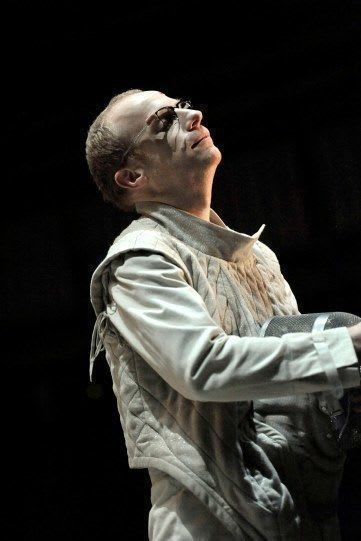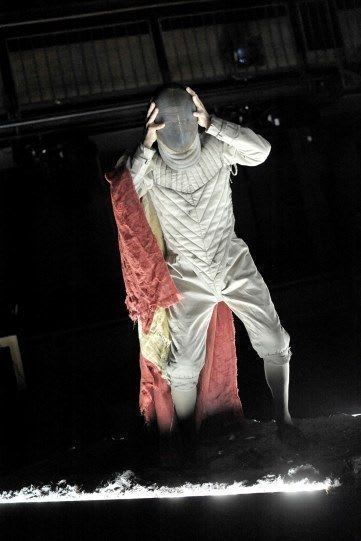 Director David Farr has worked with both Jonathan Slinger and Greg Hicks with huge success in the past—and the trio combine to produce a new take on Hamlet which is compelling to those seeing the play for the first time and inventive for anyone with deep knowledge of Shakespeare's greatest tragedy.
Farr starts from the position of Hamlet's suffering from depression, a reaction to his father's death. Slinger, described by Farr as "one of the great classical actors of his generation", is initially prone to spells of weeping as he struggles to come to terms with his grief.
But as soon as Hamlet meets the ghost of his father he changes. He's not what he seems. And that reverberates throughout Farr's production which is set in the 1960s: initial appearances can be deceptive.
This is particularly evident when guests at the wedding of Claudius and Gertrude sport fencing masks, although neither the king nor the queen is wearing one. This seems slightly strange as Claudius is later unmasked as the biggest villain of the piece.
The fencing metaphor is employed throughout: some of the action is set in a gym with swords always within reach; violence bubbles under the surface.
But despite the slightly quirky concept, this Hamlet succeeds because of the richness of the acting talent.
Slinger is able to demonstrate a complete range of emotions, from appearing melancholic—"how is it that the clouds still hang on you?" asks Claudius—to adopting a steely front when the ghost of his father wants Hamlet to follow him.
The character appears deeply in love with Ophelia although he has no qualms about humiliating her and cutting off some of her hair when he realises she's part of a plot by Polonius to trap him.
Slinger also shows vulnerability, caressing his father's fencing mask whenever he's stressed, and singing Ken Dodd's Happiness before tackling his "To be or not to be" speech.
It's an astonishing performance by Slinger who reaches depths of the character that many have never attempted before.
As for Greg Hicks, he deserves similar praise to that afforded by Farr to Slinger.
Hicks rarely disappoints and comes up with a stellar portrayal of both the Ghost and Claudius.
He played the Ghost, the Player King and the gravedigger in the 2004 RSC production of Hamlet directed by Michael Boyd. Here he gives a totally different interpretation of the Ghost, moving slowly in a full fencing outfit and spookily lit from below.
His delivery of the line "taint not thy mind" to Hamlet when he encourages his son to take revenge gives complete sense to Hamlet's later episodes of inaction.
Hicks's portrayal of Claudius is exceptionally good as he initially appears totally sincere—"You are the most immediate to our throne" he assures Hamlet—before conniving to do away with his new wife's son.
Pippa Nixon's performance as Ophelia takes off in her madness scene when she changes into a wedding dress, cuts her hand and smears blood on the foreheads of everyone in the court rather than giving them flowers. It leaves the audience enthralled.
There's also a fascinating depiction of Polonius by Robin Soans, a strict disciplinarian who in conversation with Reynaldo forgets what he's saying not through any age-related condition but because he's distracted by Ophelia; and a regal display by Charlotte Cornwell as Gertrude.
It was obvious that some members of the audience were experiencing Hamlet for the first time and at various times there was laughter as well as shock. Others who know the play well found plenty to get absorbed in.
This Hamlet might not be one for purists—but it's impressively acted, directed and staged, putting a fresh, intriguing slant on one of Shakespeare's most enduring works.
Reviewer: Steve Orme