As You Like It
William Shakespeare
Shakespeare's Globe
–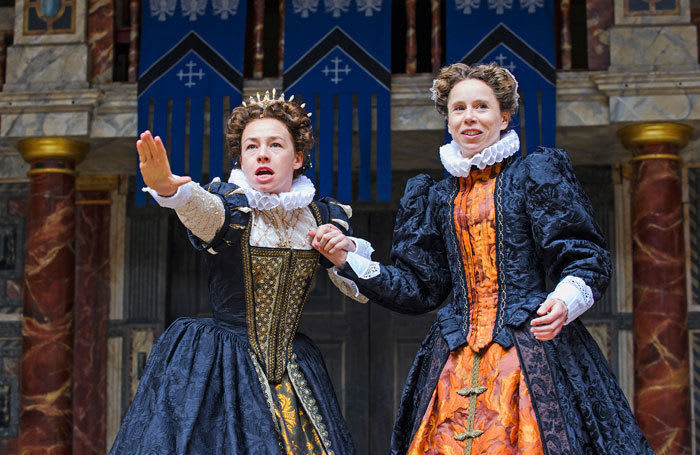 Blanche McIntyre has created what is clearly intended to be a crowd pleaser with her lengthy version of Shakespeare's comedy of confusion.
Rather than allowing the text to get laughs, she has injected many of her own ideas and asked some very talented actors to get close to hamming.
To be fair, this concept drew much laughter and applause from the opening night audience and especially the groundlings, though it is unlikely to have pleased purists.
Thanks to the efforts of designer Andrew D Edwards, costumes are Elizabethan, while the scenery is minimalist, making it unclear whether the sojourn from court is to the Forest of Arden, of which is not a leaf is visible, or a desert that is frequently used descriptively.
The opening introduces many of the key players including a muscular Orlando played by Simon Harrison, who soon has Michelle Terry as Rosalind drooling in a very modern fashion.
This is in keeping with much of the body language and some physical anachronisms such as a bicycle and sunglasses, borrowed from the era of the second Elizabeth rather than Shakespeare's Tudor monarch.
Following a family feud, this pair is separately exiled by a wicked Duke, along with Ellie Piercy's Celia, nobly joining her beloved red cousin Rosalind.
The fun starts in the forest, as they take on unlikely new characters, Rosalind changing sex to become Ganymede, while Celia suffers as his/her put upon sister Aliena.
Away from court, much fun is to be observed as a result of the antics of rich and poor, each as capable of making fools of themselves over swooning over members of the opposite sex.
Thus, we get the most famous scenes first when Orlando pens a series of corny poems and then starts cross-dressed wooing. These as ever are the making of this play, along with a series of sad yokels having their heads turned by rich incomers.
The most entertaining performers in this production include James Garnon as melancholy Jaques, who shines with as heartfelt a rendition of the seven ages of man speech as one could hope for, and Daniel Crossley's Touchstone, a merry but witty fool from court who falls for a fearsomely lusty country lass, played by Sophia Nomvete. There is also a nice cameo delivered by Gwyneth Keyworth as an incongruously Welsh Phebe.
Throughout a running time that eventually stretches beyond three hours, the manic tone and excessive gesturing can seem more like Morecambe and Wise or Benny Hill than William Shakespeare. Readers will know from this description whether they will love this novel rendition of a favourite play or struggle to come to terms with it.
Reviewer: Philip Fisher