As You Like It
William Shakespeare
Taking Flight Theatre
Thompson's Park, Cardiff
–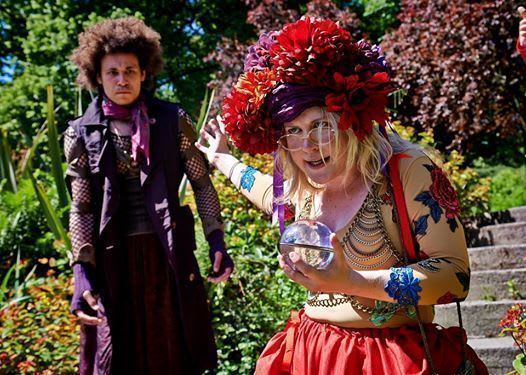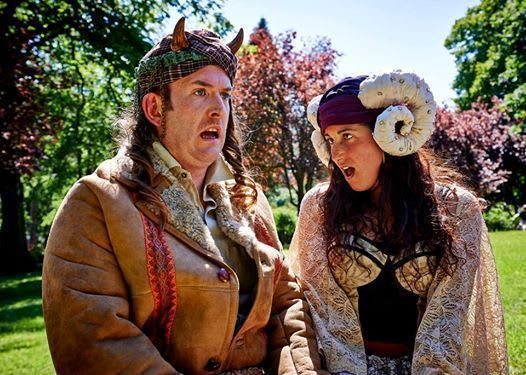 I have to start with the embarrassing admission that As You Like It, despite frequent revivals and adaptations, is not one of the Shakespearean comedies with which I am overly familiar (being generally fonder of the tragedies). I chose not to read the play prior to attending this promenade performance, hoping that all would be made clear.
Taking Flight is a company which specialises in creating productions which integrate performers with and without disabilities. For this, the first of two shows in a public park in suburban Cardiff, near the beginning of a summer tour of outdoor venues, members of the Hijinx Academy filled out the ensemble, helping to create a fairground ambience.
Director Elise Davison has chosen to conceptualise the piece as a village fete performance, with barkers, a coconut shy, and a test-your-strength machine establishing the carnivalesque mood. The plot points involving the enmity between brothers Oliver and Orlando, and the exile of cousins Rosalind and Celia to the forest of Arden—each mention of which is accompanied by the comic howling of wolves—are quickly set up.
There then follows much shenanigans, focussing on the romance between Orlando and Rosalind, their road to happiness strewn with obstacles. Darker elements of the plot are sidelined in a treatment which brings home the extent to which, one imagines, the play must have operated as a vehicle for a number of popular comedians within Shakespeare's company.
The performances are uniformly strong and crowd-pleasingly comical. Connor Allen's Orlando is an effective and likeable romantic hero; Alison Halstead uses her lack of height to comic effect as both Rosalind and her male alter-ego Ganymede.
Aled Herbert plays Oliver, but makes more of an impression as Silvius the shepherd, forming an amusing double act with Josephine Wilson as Audrey, the dim-witted rustic—a crowd favourite. Lizzie Rogan gives us a spirited Celia, and Ben Owen-Jones is an equally ebullient presence as the two contrasting Dukes.
Samuel Bees does sterling work in tying the piece together as both Touchstone the jester and company MC. He and the equally multi-talented Chloe Clarke also provide entertaining musical interludes—tunes by Dan Lawrence.
They are sometimes accompanied by William Fawcett who plays not only the flute, but also Charles the (wittily non-macho) Wrestler. The hardest worker on display, however, has to be Sami Thorpe, whose sign-language interpreting is cleverly and humorously integrated into the action.
At two hours in length, a little more cutting may have been appropriate—a few passages of dialogue seemed irrelevant to the main plot. Many elements of the bard's trademark bawdiness were retained, which may have left parents of younger audience members with a little explaining to do.
Some of the intricacies of the narrative remain obscure to me, as someone unacquainted with the text. That said, this is a pleasingly physical, boisterously funny production.
Details of the tour can be found on the company's web site.
Reviewer: Othniel Smith