Aspects of Love
Music by Andrew Lloyd Webber, lyrics by Don Black and Charles Hart, based on the novel by David Garnett
Menier Chocolate Factory
(2010)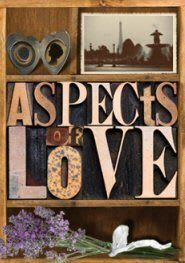 The Menier Chocola-hit Factory just keeps churning them out. The Southwark creative powerhouse currently has Sweet Charity running in the West End plus La Cage Aux Folles and A Little Night Music on Broadway.
Like the latter, this small scale Aspects of Love is directed by its original director Sir Trevor Nunn and with his name added to that of composer Lord Lloyd Webber seems destined for bigger things. That should be the case even though the cast has not been chosen by millions of TV viewers, nor does it feature any star names.
The underlying strength of the work lies in a Book based on the 1955 novel of the same name by David Garnett, who was part of the Bloomsbury set with Virginia Woolf, Lytton Strachey, et al. This is well supported by Gallic-influenced music from his Lordship and intelligent lyrics co-written by Don Black and Charles Hart.
Garnett's story is illuminated by a novel design concept from David Farley, which combines a bare, wood-lined room with simple projections to give a sense of location and minimal props to complete the pictures. This is highly effective for a musical built of numerous short scenes, which demand swift transitions.
The multiple love story takes place in France over a 17 year period starting just after the Second World War. The protagonists are Broadway import Michael Arden's vulnerable Alex, who starts as a gauche, English 19-year-old, and the more mature actress Rose (Katherine Kingsley), seducing not only everyone on stage but one would wager a large proportion of the audience too. As she points out soon after their meeting, they are that favourite stage and screen pairing of "A starving actress and a star struck boy".
In fact, the couple's experiences and those of their friends and lovers might better have been entitled Ambiguities of Love since throughout there is always a lover or two in the background for one, the other or most frequently both of them - all rather like a French farce played with straight faces.
The youngster elopes with his dreamgirl to uncle's empty chateau in Pau, where David Willetts, playing the unscrupulous old Lothario Sir George Dillingham, soon latches on to his nephew's beautiful companion without any qualms at all.
The plot thickens as the trio try not only to bed each other but variously an Italian sculptor, a pretty male nonentity and even the underaged next generation down. It could get mighty confusing if you failed to concentrate for even a second.
The evening is carried off by a good ensemble, with the leading trio well supported, in particular by Rebecca Brewer and Ellie Bamber equally winning as young Jenny at different ages and Rosalie Craig hitting a real high in every sense, while singing old George's eulogy.
First time around, starting in 1989, not only did this bittersweet musical wow audiences for over three years but it spawned a number one record for its leading man, Michael Ball. That song, Love Changes Everything, and the equally catchy duet, Seeing is Believing, recur throughout the 2¾ hours in different arrangements, like the affairs between practically every male-female combination on stage and even one of the same gender.
The combination of melodramatic story, music, design and Lynne Page's choreography should be enough to fill the Menier until the end of September and it would be a surprise if the show is not playing in the West End this Christmas.
Reviewer: Philip Fisher