Assassins
Music and lyrics by Stephen Sondheim, book by John Weidman, based on an idea by Charles Gilbert Jr
2nd Company
Pleasance Theatre, Islington
–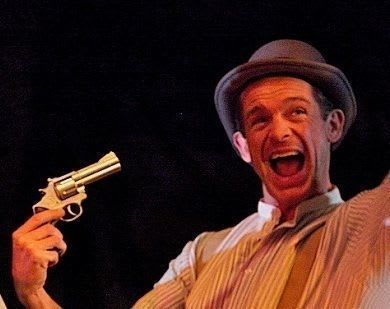 Assassins winds in and out of American history probing the motives of the "inconsequential little man" who from time to time attempts to kill the President (and who from time to time succeeds).
Its non-linear structure appears to play fast and loose with historic fact and its revue feel suggests a trivialising of murderous acts. This can alienate as much as gratify, but it is the actuality behind so much detail and the juxtaposition of the jaunty with the lethal that keeps this twenty-plus year old Sondheim work potentially chilling, even in our much-changed world.
Covering nine presidential assassination attempts the shooting starts with Confederate sympathiser John Wilkes Booth's despatching of Lincoln, lending the act some idea of nobility with a patriotic justification. Chronologically at least, it ends with the failed attempt of insane Southerner John Hinckley to win the love of film star Jodie Foster by finishing off Ronald Reagan, but the dramatic climax comes with all the assassins entreating a reluctant Lee Harvey Oswald to make sense of their individual despair.
Not all the would-be assassins were as American as apple pie and Sondheim's score introduces a mazurka and tarantella alongside the snippets of Sousa marches, hoedowns and barbershop displaying his unparalleled talent for pastiche. The lyrics are Sondheim's too: incisive, witty and fitting to the character to the point even of including Charles Guiteau's (one of the assassins) own words in his farewell song on the gallows.
In this production from 2nd Company, who have previously brought Sondheim's Company and Follies to the Pleasance, this number, "The Ballard of Guiteau", threatens to steal the show. An assured and comic performance from Brandon Force lets rip the teasingly hinted at insanity in the cakewalk that leads him to the hangman's noose.
Tim McArthur has eschewed the wimple of his comedy alter ego Sister Mary and gives a blasting performance as angry and disillusioned Sam Byck who plans to kill Nixon. Uniquely this performance delivers some goose-bumps.
Tim McArthur together with well-sung performances from Paul Burnham playing the Proprietor and Johnjo Flynn as the Balladeer also provide much needed oomph to the generally underpowered singing; the vocals are intermittently submerged by the band, though the ensemble numbers and orchestration occasionally twinkle.
Sondheim says of Assassins that it is the show that comes closest to the expectations he had of it during the creative process, and apart from a tweak to one passage—and admitting immodesty—he declares this show "perfect".
The later addition of "Something Just Broke" before the finale belies such a description for many and even uber-Sondheim aficionado, director Ray Rackham, cannot make the number work for this Assassins veteran. But Rackham's are a safe pair of hands and even if these assassins failed to unsettle me, "well, nobody's perfect".
Not suitable for children under the age of 10.
Reviewer: Sandra Giorgetti