Assassins
Music and lyrics by Stephen Sondheim, book by John Weidman, based on an idea by Charles Gilbert Jr
Finishing the Hat productions
theSpace @ Venue45
–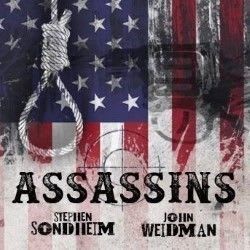 One of the few benefits of America's notorious gun culture is the amount of fine writing it is inspiring about what is wrong with American gun culture.
At this year's festival, there are three new US gun themed shows, two of which, Gunshot Medley and The Gun Show, are amongst the finest writing I have seen in August.
Finishing the Hat productions from England also bring to this year's festival the classic Sondheim musical Assassins with its panorama of politics and guns.
The show has lost none of its sardonic brilliance in this new age of Trump's harsher America, and this is a confident satisfying production.
The singing is always entertaining and it is given strong instrumental accompaniment directed by Giles Deacon.
The strong rich voice of John Ieuan Jones as Leon Czolgosz gives us a moving performance of "Gun Song" which also includes the humorous harmony singing of three gun toting assassins.
There is also humour from Richard Aaron Davies as Charles Guiteau preparing to be executed for killing of President Garfield, and a warm romantic duet from Hugh Beckwith as John Hinkley Jr and Lani Calvert as Lynette Fromme.
Jack Hawkins as fairground master, balladeer and Lee Harvey Oswald gives a confident, effective performance, but the outstanding performance for me is Oliver Maynard as Sam Byck.
He leads the well choreographed dance of the Assassins in the song "Another National Anthem" that I can't ever recall being delivered in such a ferocious manner as they drive the balladeer from the stage singing "There's another national anthem, folks, For those who never win, For the suckers, for the pikers, For the ones who might have been... The ones that can't get in To the ball park. And I think it just began In the ball park."
This is an enjoyable production that had the audience gripped throughout.
Reviewer: Keith Mckenna