Assessment
Robert Dawson Scott
Shows on a Shoestring
Gilded Balloon at Rose Theatre
–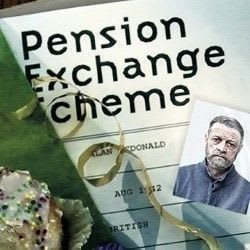 The problem with science fiction is however outlandish the idea, governments seem set on making them come true.
The premise underlying Robert Dawson Scott's Assessment is not exactly sci-fi but second guesses the near future.
It is 2019 and the country's finances are parlous. In passing, a throwaway line tells us that there is a male Prime Minister but whether ruling the UK or an indy Scotland is unclear.
In any event, one of his PFI partners is seeking a guinea pig for a plan to buy future prosperity at a manageable cost today.
Without giving the game away, it affects the future for Stephen Clyde's arthritic pensioner Alan, who is celebrating his 77th birthday, and his mildly devoted daughter, Karen, played by Karen Bartke.
Visits from oily Amrit, the kind of salesman who could cheat an oldie out of his pension without batting an eyelid, and later his pushy boss Sharon, respectively Taqi Nazeer and Selina Boyack, create a stirring morality debate about old age, families and finances that could easily happen in many households over the next few years.
Reviewer: Philip Fisher