Astana Ballet: Love Fear Loss / Salomé / Heritage of the Great Steppe / A Fuento Lento
Choreography Ricardo Amarante, Mukaram Avakhri, Tati Aigul
Astana Ballet
Linbury Studio, Royal Opera House
–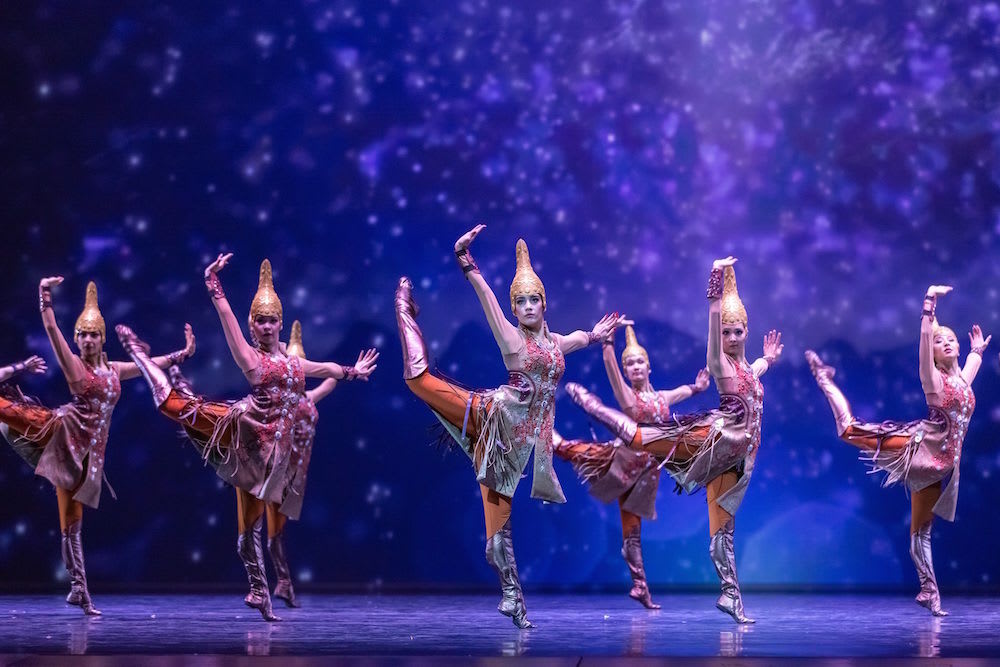 Kazakhstan's Astana Ballet, founded in 2012, is making its first visit to the UK and it has much to offer, particularly its excellent dancers, but the small stage of the Linbury Studio is the wrong venue. It does the company no favours: bare, exposing, the dancers have to work extra hard to conjure scenarios for the four pieces they present with earnestness and poise. Back home, they have a grand, purpose-built theatre; at the Linbury, a gallon of talent is being poured into a pint pot. Not the setting for this jewel of a company.
The opening fifteen-minute Love Fear Loss to over-amplified solo piano versions of three of Edith Piaf's sentimental love songs—Hymne à l'amour, Ne me quitte pas, Mon Dieu—has three beautiful couples dance three generic pas de deux. David Jonathan and Dilara Shomayeva, Ilya Manayenkov and Ainur Abilgazina, Farkhad Buriyev and Tatyana Ten perform with tender care and elegance, but one feels one has seen it all before.
Ricardo Amarante is the choreographer and costume designer, as he is for the twenty-six-minute tango-inflected closing piece, A Fuego Lento, his works bookending the evening. A slow burn the title suggests, and so it is. Under purple, blue and red lighting, shifting the mood of each cabaret-style presentation, dancers in black and grey, long-legged girls and sway-backed men, make the corny choreography look good, but it is no Argentinian blaze, more clean-cut Patrick Swayze Dirty Dancing.
The two dramatic central pieces are more interesting, even if the folk dancing extracts in The Heritage of the Great Steppe fall a teensy bit into the tourist entertainment showcase ballpark (in a good way) and Mukaram Avakhri's interpretation of Oscar Wilde's Salomé into Yuri Grigorovich's Ivan the Terrible Bolshoi bravura dramatics.
Kazbek Akhmediyarov's Herod, fingers splayed, terrifying mien, prowls his palace like the terrifying Ivan. A large rectangular table dominates the space, gets easily upended into a wall and a cliff top from which the dancers line up to take a fall at the end. But dancing on the table fifteen at a time, and plenty of seductive dancing girls filling the stage around it, do not a convincing bacchanalia make.
Leading soloist Riza Kanatkyzy makes a splendid haughty Herodias; Farkhad Buriyev a John the Baptist anyone could fall for. One can see why Aizhan Mukatova's Salomé is turned on by this incorruptible figure, whose head she must have—rolling across the table.
Olga Shaishmelashvili's costumes are fabulous: purple dress for Herodias, purple-lined, long, black coat for Herod, Salomé in skimpy slip. No dance of the seven veils… Denis Solntsev's lighting, searchlights crisscrossing the stage and a symbolic moon sailing high above the stage, is atmospheric as is Fazil Say's oriental music and cinematic score, but I wonder how it would all look on home turf. It needs a large stage to do its Soviet bravura style justice. As it is, the thirty-five minutes seem interminable.
The best of the evening is the steppe heritage piece—a compilation of extracts from six tales of old crammed into twenty-five minutes—and the costumes (many fast changes) are truly stunning (several designers listed). Fierce warriors (in fashion plate Genghis Khan look), archers, men and women, fly across the stage. Beautiful girls in dazzling costumes gliding in folk dance formation make me think of the great nineteenth-century Russian writers who wrote so evocatively of their experiences in the east, the captivating girls.
The music is ethno-folkloric, there's a hint of Tuvan throat singing, there's bird imagery in exotic female solos of remarkable flexibility, arms soft, alluring, and the vastness of the steppe is conjured on a tiny British stage—glorious miniatures interlaced in a graceful kaleidoscope of national dance rhythms. Now that Astana Ballet has dipped its toes into the traditional English home of classical ballet, hopefully next time Ensemble Productions can find a larger venue to accommodate the company's not inconsiderable abilities.
Reviewer: Vera Liber