Astonish Me!
Dominic Dromgoole
Profile Books
Released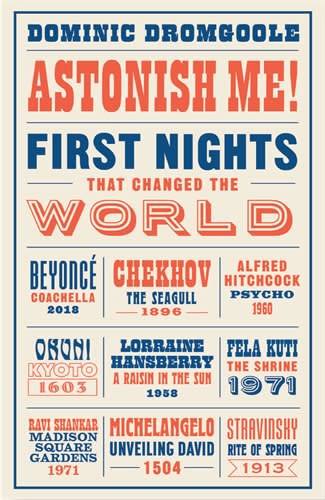 In his time, not only has Dominic Dromgoole helmed both the Bush and Shakespeare's Globe but also built a strong reputation as an author.
His latest contribution is sub-titled "First Nights That Change the World", although that can be rather misleading.
In fact, Astonish Me! demonstrates the skills and interests of an artistic polymath covering almost every imaginable type of artistic endeavour from visual arts to literature, drama and music plus more besides.
The 376 pages run the gamut of history from 1345 BCE into the 21st century in a wide-ranging series of essays about seminal moments that change the artistic world and, in some cases, the world itself.
Helpfully, in his informal bibliography, we get a very nice summation of the contents of a fascinating book. "These tales are impure history, blending the fine work of more scrupulous historians, some proper grown-up research, some scampering through the branches and digging in the roots of the Internet, an accumulated weight of personal experience, and the benefits of long conversations with experts."
The scope, starting with Lorraine Hansberry's genuinely ground-breaking Raisin in the Sun, really is astonishing with, as one might expect, theatre getting a little bit more than its fair share of space.
Where else could you find ancient Athenians rubbing shoulders with Kabuki, Oscar Wilde, Alfred Hitchcock and Sarah Kane or even ancienter Egyptians doing so with Michelangelo or Damien Hirst and his Young British Artist pals?
In musical terms, we can be amazed by everything from the first opera, Monteverdi's L'Orfeo, through to Handel's Messiah, the Sex Pistols and Beyoncé.
The Asian continent is not forgotten either, with a pair of Shankars and the bizarre story of Xiao Lu's explosive performance art.
These examples should give something of a flavour of an adventurous and always readable book that has something for everybody, whether it is an opportunity to reconsider and evaluate works that they know well or learn about something completely new.
Part of the attraction of Astonish Me! lies in Dominic Dromgoole's thirst for knowledge and his eagerness to share it.
Rather than merely attempting to recreate historical moments or briefly summarise and explain artistic achievements, he also attempts to contextualise them, showing the kind of interest and knowledge that one might more commonly associate with university professors but without their trademark dryly unintelligible style.
As such, Astonish Me! is an unusual volume but strongly recommended for anyone interested in the arts.
Reviewer: Philip Fisher