Astronaut
Theatre O
Based on a short story by Andrea Valdès
BITE:05 Barbican Pit
(2005)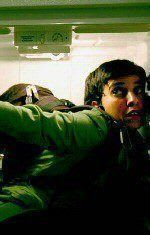 For some years now, Theatre O has been one of the most successful physical theatre companies in Britain. They may not quite have that the range and experience of the now come of age Complicité but they have toured the world to great acclaim (even succeeding in China) with their previous shows, 3 Dark Tales and The Argument.
Astronaut might be regarded as coming from the same stable as Robert Lepage's Far Side of the Moon and like that show, takes advantage of every prop to create refreshing new images.
X, played by Toni Arteaga, is very much an average Joe and (or possibly Jose). We see his life through his own eyes and those of his wife Lucia and daughter Valentina. The action is largely portrayed through mime with some extremely funny ablutions giving way to X's trip to a tedious job as a salesman of prosthetic legs.
The play cleverly looks at his life at the time when Valentina is a rebellious 16 year-old but flashes back half-a-dozen years to show the contrast with the sweet ten-year-old who had nothing but admiration for her parents. Similarly, her father's earlier hopes had by this point been replaced by neuroses.
Just as one begins to wonder whether the plot is going anywhere, an advertisement from the European Space Agency offering a public seat on the first manned flight to Mars to an average citizen wakes our hero.
He is galvanised and despite the irritations of telephone automation that are also suffered by his bright-eyed daughter, gets the job together with ten years' training.
This does not meet with the familial delight that he might have expected, even when they get the opportunity to take part in a photo-shoot that could have been imported straight from a silent movie.
Inevitably, an anti-hero of this type will never get to Mars and his increased depression as the mission is repeatedly postponed is close to heartbreaking.
Under the direction of the company's founder Joseph Alford, the trio is extremely well drilled with choreographer Eva Vilamitjana a true star when it comes to dance sequences, while Arteaga and Carolina Valdès prove excellent both with mime and comedy. They are all assisted by Gareth Fry's very powerful sound design, which on occasions is almost like a fourth character.
The comedy is largely physical although there are some spoken parts that sometimes, rather surprisingly, benefit from the fact that the actors are not British. The real highlight is an excellent sequence recreating a Game Boy shoot 'em up on stage.
There are few opportunities to see physical theatre companies of the quality of Theatre O. Fans of the genre will not be disappointed and this might also be a good introduction for those who are not familiar with this type of work.
Reviewer: Philip Fisher