Auf dem Gebirge hat man ein Geschrei gehört (On the Mountain A Cry Was Heard)
Pina Bausch
Tanztheater Wuppertal Pina Bausch
Sadler's Wells
–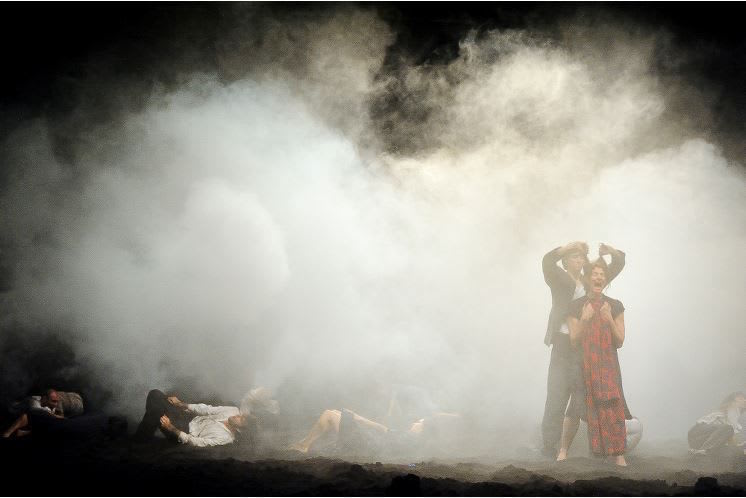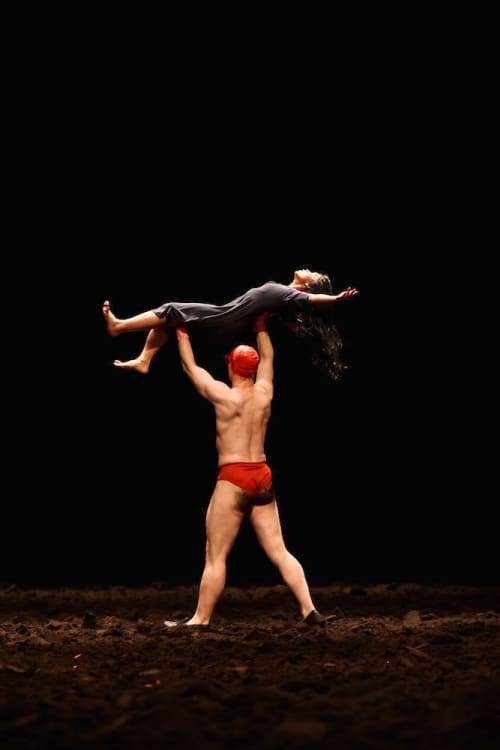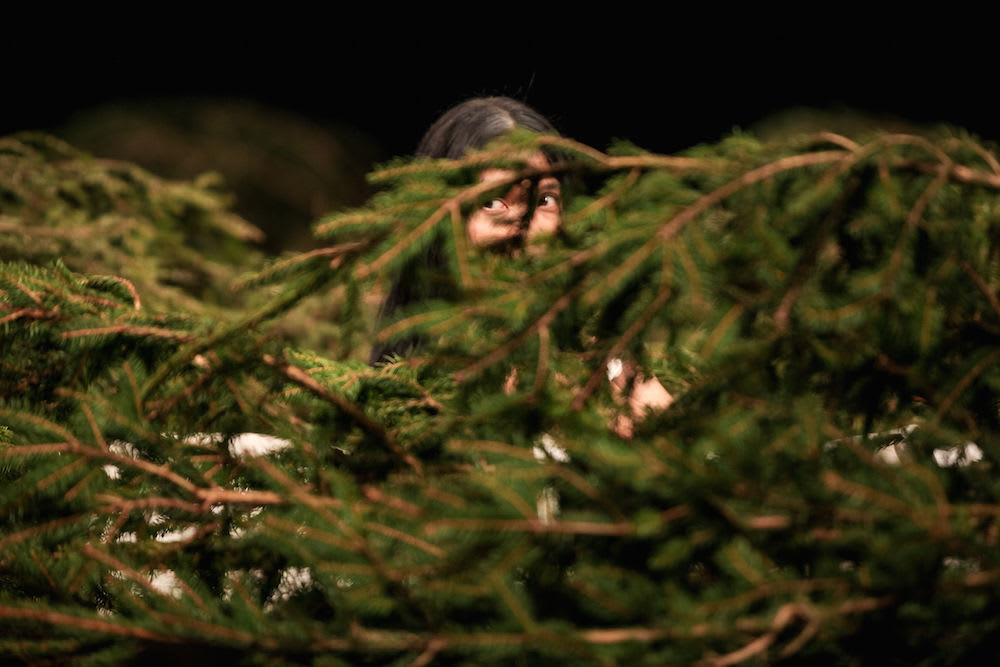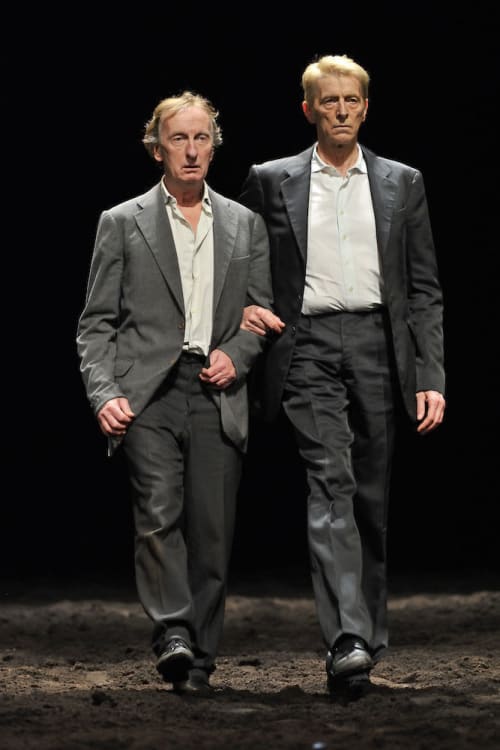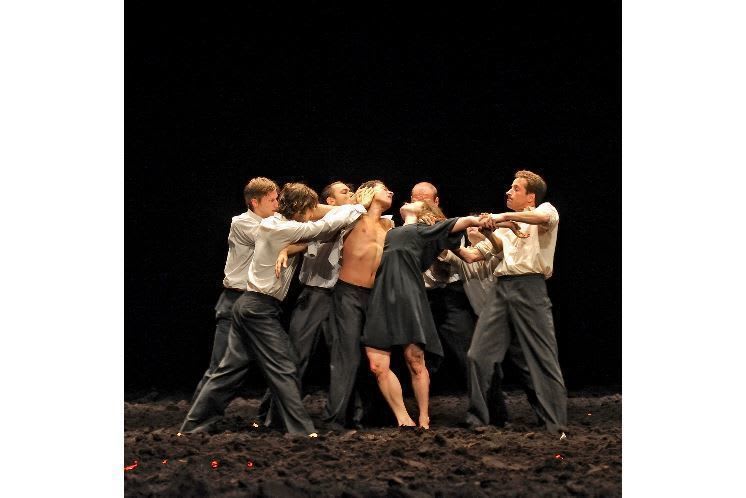 A legend in her time, Pina Bausch is in danger of being sanctified: her loyal troupe (now an annual presence at Sadler's Wells, for which much thanks) is keeping her flame burning bright and re-burnishing the old with some new faces.
Her fans will know what to expect and be delighted to add another of her 46 productions to their collection—I am barely half-way through her canon. An incredible body of work however one looks at it, pieces illuminating each other to cumulative effect.
But, her 1984 Auf dem Gebirge hat man ein Geschrei gehört (On the Mountain A Cry Was Heard)—a chilling biblical reference, which also finds expression in Heinrich Schütz's cantata—will test, confuse and puzzle the uninitiated. Be prepared to be an interpreter of surreal dreams, of nightmares.
Stay with it, let the tapestry weave its spell thread by thread; let the collage accrue piece by piece and you'll be surprised by what resonates in the mind's eye. Pina has a habit of trapping you in her headlights.
The musical mélange lights the way: Mendelssohn's War March of the Priests next to Billie Holiday's Strange Fruit; Tommy Dorsey's big band sound and Henry Purcell; Gerry Mulligan and Johnny Hodges's jazz saxophones and Edith Piaf; Irish bagpipes and Boris Vian; Heinrich Schütz and Fred Astaire.
And a brass band, An Orchestra of Senior Musicians, on the stage for a charming playful vignette: a woman in elegant gown stands silently by, doesn't sing, just scratches her bites—is this a village square in summer, a boating spa?
It's a heady brew that makes the doleful hair-tearing madness and mayhem on stage just about bearable. And arouses curiosity—whatever next?
Soil and fog, a man dressed for the swimming pool—red trunks, red hat, red goggles, rubber gloves, black rubber shoes, and no nose. Is he the bogeyman of your worst nightmare? Was he Pina's? Blows up balloons and bursts them, dresses his arm with sausage slices, salad and mayonnaise and offers it to the front row on a platter—creepy, huh?
But the opening image is of people running around the stage and auditorium, arranging themselves like children in a playground, constantly changing places.
This is at the heart of the work: we are still children whatever our age with childish fears and memories concealed deep in our bones. Pina taps into that—she always has in her dance theatre dramas. We just have to make our own sense of them.
Groups race around the stage, kiss chase, force kisses (master race eugenics?), row pretend boats across the earthy sea, swim and rescue damsels in distress. A woman stands alone on the stage for eternity—throughout the interval—and her hair turns grey.
One in black slip submits to the bogeyman carving wheals on her back (The Night Porter, anyone?), whilst another in white evening gown allows him to bandage her arms and head till she becomes a zombie (Mengele?).
Are these boys training to be cadets as they rush through the mud; who is the transvestite in harem outfit (very Marx Brothers deadpan face); why are the women obsessively rubbing away at their arms and faces?
What do the songs, poems and cryptic phrases refer to: 'I'm better now', 'everything dies', 'why are you doing this'? 'Why are you looking at me', asks a man in lacy body with hands held up like rabbit ears as he tiptoes sideways across the stage.
There is a slowness and heaviness in their movements, bodies weighted down in the soil like trees. Lo and behold twenty Christmas trees are brought briefly on stage. Two girls turn cartwheels amongst them, then they're gone.
Dominique Mercy and Lutz Förster reprise their gentle Chaplinesque duet from thirty years ago—wonderful to watch, the blind man and his helper. 'Maybe it's because I love you too much'.
Light and dark—swirling fog painting filigree pictures up to the sky, graveyard soil—heaven and earth, heaven and hell. A woman howls at the moon. Am I imagining all this, are we all seeing the same show?
Is this Pina exorcising German guilt, acknowledging not only her country's dark past—a man shouts he wants to kill, to rape all women and children—but also the troubling heart of darkness, the demons that pursue us all? 'Cry me a river'. Did anyone hear the cries from the death camps?
Life's cycle, everything repeats but in a slightly different way—watch closely. It may be bedlam but it makes sense. Flipping like seals on a beach, somehow the twenty-five-strong cast get through the night. As do we, phew.
For Pina addicts there's more to come next week - Ahnen - I'll be there.
Reviewer: Vera Liber