August: Osage County
Tracy Letts
A Steppenwolf (Chicago) production
Imperial Theatre, New York
(2007)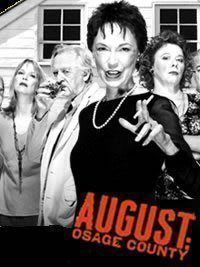 This play restores one's faith in contemporary American playwrights. While there are many who can write great dramas on a small scale, with August : Osage County Tracy Letts shows that he could inherit the mantle of O'Neill, Miller or Williams, not to mention Sam Shepard.
The influences on this massive, 3½ hour family drama by a man who had a big reputation for in-yer-face works such as Killer Joe and Bug are manifold. In addition to the Americans, you could find connections to the Bible or the Greeks, Shakespeare or Chekhov but this play is not derivative, having its own voice and a rich series of eccentric but believable characters.
The set is as busy and jumbled as the family that inhabits it. Todd Rosenthal presents a narrow, three-storey Oklahoma house with its innards, or at least three rooms, presented on the outside. This helps to involve the audience, who are gripped from start to finish by Anna D. Shapiro's dazzling production.
The opening scene introduces the playwright's father Dennis Letts as a loveable, drunken, old poet turned teacher, Beverley Watson, whose actions drive the remainder of the play, even though he is dead within the first fifteen minutes.
Prior to disappearing, he has helpfully provided Native American Johnna (Kimberley Guerrero) as a willing, put-upon nursemaid/housekeeper for his pill-popping cancerous wife, Deanna Dunagan's Violet.
Miss Dunagan is one of the night's stars, struggling to get downstairs but finding hidden reserves of energy to lambaste her callow family and omnisciently reveal a whole city of skeletons in their cupboards.
This rich cornucopia of oddballs is as entertaining as they are scary. As well as Ma and Pa, there are three colour-coded daughters. Blonde-haired Barbara should present actress Amy Morton with a whole host of award nominations. She is brilliantly prickly as a deserted wife, committed mother to a fourteen year old hash-smoker (Madeleine Martin's knowing, funny Jean), and tough when the need arises, which it often does.
Brunette Ivy (Sally Murphy) has finally got her act together in her mid-40s, at least if incest becomes acceptable on the Plains, while red-headed Karen (Mariann Mayberry) is happily engaged to a thrice-married child molester.
The in-laws are no better. Mattie-Fay, Violet's sister played by Rondi Reed, is more of a nightmare than all of the others, unremittingly bullying her husband Charlie (Francis Guinan) and grown-up son Little Charles (Ian Barford) until the former fights back to audience applause.
That's a quick overview of a play that has enough aphorisms to please Oscar Wilde, laughs galore but also a message that obliquely comments on the fractured lives that American families (and the rest of us) lead today. There may even be a more allegorical observation or two about the crumbling nation itself, buried in there too.
This thoughtful, funny play may be long, have a big cast and some fairly impenetrable accents but it is to be hoped that it will find a home in London really soon. It certainly deserves to.
Reviewer: Philip Fisher