Austentatious
Music and Lyrics by Matt Board and Joe Slabe; Book by Matt Board, Jane Caplow, Kate Galvin, Luisa Hinchliff and Joe Slabe
Landor Theatre
(2009)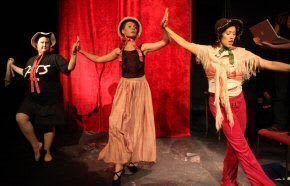 Austentatious is an hilarious musical receiving its British premiere at the Landor Theatre.
The story revolves around a community theatre group's staging of Jane Austen's Pride and Prejudice. The adaptation - more aberration if truth be told - has been created by over-imaginative amateur, Emily, whose ever-changing concepts for this classic include such lunacy as resetting scenes on pirate ships and giving Darcy a Flashdance routine with jazz hands. There is no controlling her, largely because she is sleeping with the director.
He, Dominic, in turn hasn't got a clue and his pretensions are many; in one number he says, "I am not encumbered by trivialities like character and text" which just about says it all when it comes to describing his technique. His arty-farty weak-willed approach throws a further burden on overworked and put-upon Stage Manager, Sam, already dealing with the fallout from the actors' competitive egos and conflicting agendas.
Surprisingly for a musical, its best moments have no songs but this reflects its unclear identity; the intentioned structure is debatable but what we get is a farce contained only reasonably comfortably within a musical comedy.
On the story side Austentatious has an element of déjà vu - there is something Noises Off-meets-A Chorus Line-about it, with perhaps a touch of Acorn Antiques but the sequence of events here is less convincing. It would also benefit from some tweaking in a scene where the inevitable moment of intimacy arrives between Sam and David and is played out in the dialogue and then repeated in a duet which brings no plot progression or anything new in terms of our understanding.
However, we can forgive this and its other weaknesses because of its sheer comic value. It's been a long time since I left a theatre having laughed so much, and I hugely enjoyed it.
There are some unexpectedly funny lyrics, clever rhymes and internal rhymes in songs that spring along pleasingly enough, and the script contains some very funny bits of dialogue and one liners of the "Whatever you may think of Mr Bingley's balls..." variety. Familiarity with theatre practices and Pride and Prejudice is not necessary, but would guarantee some of the subtler humour ("Stanislavsky. Yes, he's good isn't he"), and followers of the Colin Firth school of Darcy will particularly enjoy an inspired moment in the second act. Whoever thought of that one should get a mention in the programme!
When we think of farce we think of fast exits and entrances through numbers of slamming doors and in Austentatious young director Lotte Wakeham shows some cnsiderable talent in achieving that sense of 'frantic/hectic/apoplectic' - if I may abuse one the lyrics - in a venue that does not lend itself easily. She also maintains a cracking pace in the comic moments which not only counterpoints the calm of Sam's orderly preparation with the "riot dispersal" of the rehearsal process, but also helps paper-over some of the cracks in the narrative logic.
I was all ready to dislike pot-head stereotype Blake - an easy model for some easy laughs - but Simon Lipkin turned me round almost instantly. He and Jenna Boyd as Jessica are fantastic comic foils for each other, both displaying a talent for comedy that is a joy to watch. Ilan Goodman is very good at the deadpan delivery of limp director Dominic's funny lines whilst Lucy Mills' calculating and insincere Lauren does bitchy blonde adroitly.
Kooky Emily, played by Fem Belling, has such enthusiasm and self-belief about her that her lack of contact with the mothership becomes an infuriatingly endearing quality. Belling's dance training is put to good use by choreographer Tim Jackson and her high kicks and energy don't sag for a second.
Our hearts though, of course, are won-over by unappreciated, unselfish Sam. Cinderella-like she toils away, runs off at the 11th hour and gets her man. Cassidy Janson plays her with great sensitivity; we can see she is vulnerable in spite of the 'I manage' exterior. Her prince charming, David, is played by Richard Meek who makes the most of the differences between David and the other characters and is a natural at the modest, thoughtful and good-looking hero.
Austentatious played to sell-out houses in the US and I suspect it will do so quickly at the tiny Landor Theatre. It merits a transfer to a bigger venue and I hope it will get one. It is not without its imperfections but the creative talent here deserves nurturing and the performing talent is worthy of a bigger audience.
"Austentatious" plays until 28th March, Monday to Saturday at 7.30pm, with Sunday matinees at 3.30pm
Reviewer: Sandra Giorgetti