Autobahn
Neil Labute
Savio(u)r
King's Head Theatre
–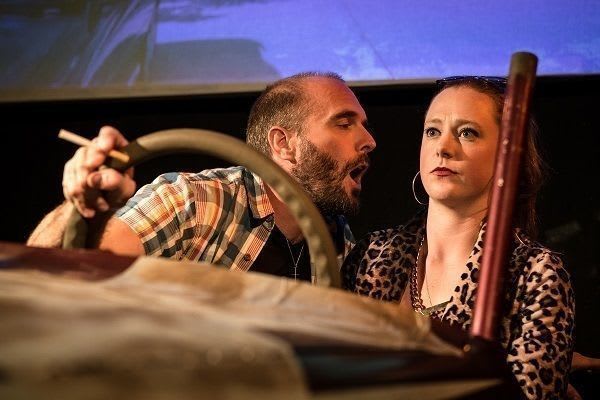 Neil Labute's 2003 collection of brief plays, Autobahn, is like seven mini road movies directed by Tim Sullivan for Savio(u)r, a company specialising in American works.
Strung together one after another for just under 2½ hours, the short pieces provide different takes that together build to depict the failure of the Great American Dream.
Sitting behind a heavily rusted car bonnet, the scenes contain two generally dejected and often unpleasant (well it is Labute) characters at odds with each other. These are not always dialogues as, on three occasions, one participant is silent, if mutely dismissive of their loquacious companion.
Capitalising on the overheated atmosphere and climate shown on stage, the King's Head suffers the summer fate of so many theatres whose appeals for funds to purchase an air conditioning system have not yet come to fruition.
funny focuses on Zoë Swenson-Graham, a talented character actress perfectly suited to this format. She plays a perky teen driving home from a school that doubles as an alcohol rehab clinic, accompanied by her taciturn Mom.
The initial bonhomie turns into something a little nastier as the youngster makes it clear that despite the efforts of all around she is neither repentant nor ready to clean up her act.
In bench seat, the same actress is paired with Tom Slatter forming a young couple on a date at a local beauty spot.
He is diffident, she forward, as they make out and talk at odds about the conflicting future patterns that their relationship might take.
Henry Everett joins Miss Swenson-Graham as an apologetic guy on the ropes when confronted by a presumably feisty though silent female.
As with so much of this writer's work, semantics and language loom large in all apologies as he tries to dig himself out of what seems to be a very deep hole, having used a descriptive but deeply obscene noun that could end a marriage.
Leading up to the interval, we meet an older couple as Everett is joined by TV favourite Sharon Maughan for merge. This little comedy sees an embarrassed woman trying to talk away her drunken forgetfulness following a business seminar that ended with her remarkably forgiving partner riding like the Lone Ranger to the rescue.
long division is the slightest piece. It shows a driver played by Slatter trying to persuade his much put-upon male friend to regain some pride after he was deserted for another man.
The silent victim seems reluctant to take action, even though the logic of recovering his Nintendo (if not the kids) seems indisputable.
The best playlet is road trip. By the time that we meet characters portrayed by Everett and Miss Swenson-Graham they have already been on the road for 20 hours heading for an undisclosed destination.
The young girl and father figure have a relationship that only slowly becomes apparent but allows Everett to act at his best.
The evening ends with autobahn itself. An older couple are driving away after leaving their young foster son.
As we learn from Miss Maughan's self-justifying chit-chat, he has been a bit of a handful, typifying all that is supposedly wrong with American youth today.
This collection is often amusing and also chilling but rarely gets too far beneath the surface, which is probably inevitable with a series of plays that only run for 15-20 minutes each.
They feel more like a warm-up for those full-scale works rather than a great piece of drama but are worth a visit for their representation of themes and stylistic traits with which we have all become so familiar in Neil Labute's career on stage and screen.
Reviewer: Philip Fisher