Avenue Q
Music and Lyrics by Robert Lopez and Jeff Marx, Book by Jeff Whitty
Golden Theatre, New York
(2006)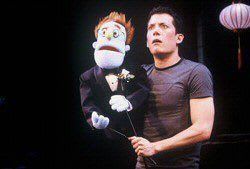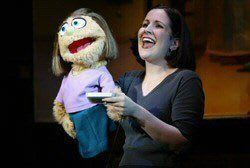 Avenue Q is like a children's cartoon or puppet series dirtied up to appeal to an adult audience. It is part Sesame Street, part South Park with a dose of Viz thrown in. The formula works as, even in early January, the show is selling well on Broadway and heading for the Theatre Royal, Stratford East en route to the West End.
There are basically three categories depicted in Avenue Q: humans, puppets and the racially sensitive monsters. For just over two hours the audience is transported to a deprived downtown area of New York where the inhabitants may be unusual but they have the same issues as anyone else.
The stars of the night, both of whom have attractive voices, are Broadway debutante Mary Faber and Barrett Foa who was in the original cast of Mamma Mia. This pair look like children's TV presenters and exhaustingly double parts, in Miss Faber's case, like a seasoned farceuse, possibly because an understudy was playing at the performance reviewed.
This pair control Sesame Street-style puppets, as do various others. Their main love interest characters are Kate Monster and rich kid Princeton. In addition, there is the outrageous Mae West-like Lucy, shaggy Trekkie (Cookie) Monster and a closet gay couple.
This group of puppets interact as equals with the humans. Big Brian, Jordan Gelber and his oriental (don't use that term though) bride Ann Harada's Christmas Eve are upwardly mobile but jobs are hard to come by in this disadvantaged district.
Perhaps saddest of all is janitor, Gary Coleman, played by Natalie Venetia Belcon. The real Coleman was an actor in children's TV series Diff'rent Strokes and thereafter, very publicly struggled to find a meaning to his life or a job (though he did run against Arnie Schwarzenegger for Governor of California). Now he pops up as a sympathetic butt for jokes on Broadway.
The mix is highly entertaining. Great gags, some cod educational bits and songs such as "It Sucks to be Me" that are ostensibly bright and bouncy efforts for 5 year olds. However, that belies their underlying biting wit, risqué subject matter and a strong plot that holds everything together.
The book may be soap opera stuff but this works well in musicals. There is potential love between man and woman, boy and girl and boy and boy, there is unemployment and also a search for purpose and happiness. Who could ask for more?
The style is very Sesame Street with the puppets well controlled by visible actors. The real strength here is the mirroring of actors' expressions and body language in their half-length glove puppets and vice versa.
The keys to Avenue Q's success are a combination of nostalgia, comedy and the seductive attractions of puppets giving vent to anger over adult issues. There is also the most graphic sex scene that can ever have appeared on a Broadway stage.
Avenue Q is an undoubted success and could last on Broadway for many years. It may not translate quite so well to a country that has not really heard of Gary Coleman and is not as grounded in the lore of Sesame Street but with a little adaptation this hit should wow the British too.
Philip also interviewed Robert Lopez and Jeff Marx.
Reviewer: Philip Fisher