Awful Auntie Live On Stage!
David Walliams adapted by Neal Foster
Birmingham Stage Company
The Lyric, Theatre Royal Plymouth
–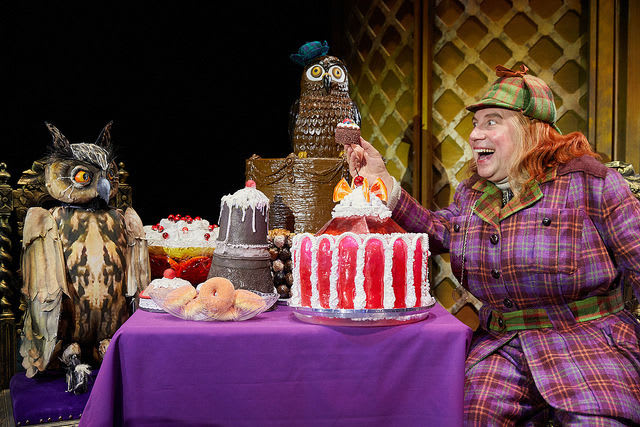 Not too sure where this is aimed.
Rather one-dimensional and with much stilted pantomimic 'stand and deliver' potty humour elicits sniggers from the same young audience the disturbing cruelty terrifies, while older kids seem to relish the grotesque but are quick to point out director and adaptor Neal Foster's departures from the highest-selling children's book of 2014. We all get a tad lost in the wordiness of it all and frayed ends frustrate.
Bonkers butler Gibbon (Harry Sunderland) brings light relief with barmy antics—mowing the carpet, walking the tigerskin etc—while grotesque Aunt Alberta (Richard James) devises ever more disturbing ways to persuade her orphaned niece Lady Stella Saxby (Georgina Leonidas) to sign over the ancestral pile.
The 12-year-old heiress makes a buoyant recovery from months in a coma and manages to not be too upset at the shock discovery of her parent's untimely death.
Displaying resourcefulness and resilience worthy of the Famous Five, she determines not to reveal where the deeds are hidden, come what may.
And so the tale of poison and torture, electrocution and murder unfolds with Stella channelling her inner Sherlock on the clue-finding trail to unmask her harridan guardian and bring her to a violent end. Helped by chirpy, dead chimney sweep Soot (Ashely Cousins), she is constantly thwarted by all-seeing, reared-from-a-stolen-egg, owl Wagner (puppeteer Roberta Bellekom) whose smoothie-making skills are vomit-inducing.
Slapstick and scariness are strange bedfellows here: slipping on marbles, ants in pants, farts and toilet splashback juxtaposition uneasily with shades of The Shining; bandaged into immobility; high voltage persuasion tactics and more.
Jacqueline Trousdale's clever set looks a little cheap but four towers spin to enable the children to clamber from basement to battlements and access all areas and open to reveal study, library, kitchen and bathroom. Video and lighting brings night, day, treacherous ice and freezing lake.
Slick use of Roman Stefanski's puppetry includes mini me Aunt, owl and kids—changing the perspective and allowing the action to include scampering across the gardens and escape into the snowy night, but the car chase is bravely played out in real size, winding precariously between the towers.
Threaded throughout are rather sexist comments which go untamed—unwafting ghost Soot knowing how cars work because "boys know that stuff"—while his Cockney rhyming slang and Stella's upper crust 'posho' manners are a pedestrian shoo-in for a late cringeworthy polemic on class divide.
Unsatisfactory translation to stage and perhaps rides too much on the overcoat tails of Walliams's earlier runaway success Gangsta Granny.
Reviewer: Karen Bussell