Rap Guide to Climate Chaos
Baba Brinkman
Gilded Balloon
–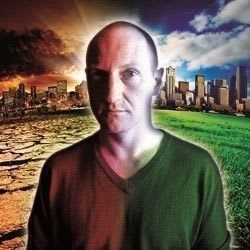 Baba Brinkman's 2015 offering is on a pertinent subject, as he addresses the future of the planet. This is serious stuff for a light-hearted Festival but the Canadian rapper carries it off with ease, skilfully directed by Darren Lee Cole from New York's Soho Playhouse.
This is what one would expect from a man who delivers material that would not be out of place in a university lecture hall using a medium which is more frequently associated with lethal post-delinquents.
Where one might expect pure comedy, Baba happily provides detailed statistics that can be terrifying.
Perhaps the most thought-provoking suggestion is for the introduction of a global carbon tax, which would make us all think before flying, eating beef, breathing etc. The idea is to cut CO2 emissions by making things personal.
He also focusses on politicians and in particular those in denial, with Donald Trump top of the list of those lampooned.
Beyond the well-researched and structured script, there is also a freestyle rapping element, where three topics thrown in by audience members are incorporated into a rap.
The performer's energy is remarkable, as he barely stops to draw breath through a full hour of hand-waggling, high octane performance that will make viewers think about what they can do to help slow down global warming at the same time as mourning the callousness of greedy politicians and voters.
Reviewer: Philip Fisher