Baby Wants Candy

Barrow Street Theatre, New York
(2009)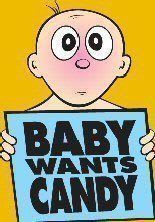 The latest rock musical from Chicago-based company, Baby Wants Candy is called It's a Wonderful Life Sentence. It is a screwball comedy of distinctly variable quality that feels drastically under-rehearsed.
Since the ensemble of seven performers and their four strong band did not know the name of the show when the house lights went down, a little roughness around the edges seem s a small price to pay for a great afternoon's entertainment.
After a lady in the front row suggested the catchy title, it was only seconds before the team began to devise a comic, prison break plot that would not have disgraced some TV offerings on this subject.
There are occasional collective songs but for the most part, the actors break out into pairs, which both adds intimacy, and allows their friends a little thinking time.
Amazingly, it all pulls together so that a vaguely coherent plot develops, with recognisable characters, whom one comes to love (sexy, dim Vanessa) and despise (who else but the grim Governor?). He certainly has unorthodox methods, proclaiming that anyone in prison on Christmas Day immediately earns a life sentence.
Much else in this improvised plot is equally whacky and each of the sketches is accompanied by songs that are at worst passable both musically and lyrically.
In this musical, the undoubted highlight was when one of the actors became a human crucifixion-influenced kite - don't ask!
The story is hardly what the audience has come to see. Baby Wants Candy shows are like watching magicians perform. You want to enjoy the performance and trickery but even more, there is an urge to work out the techniques that allow a group of young performers to create an hour of high quality and sometimes hilarious entertainment from the thinnest of materials.
Punters will probably not really have cracked that one by the end but visiting one of these unique shows will undoubtedly prove a rewarding experience.
Reviewer: Philip Fisher