Scenes from the Back of Beyond
Meredith Oakes
Royal Court Theatre Upstairs
(2006)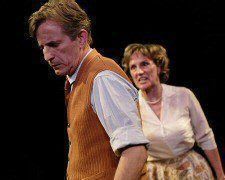 Strangely, this new play in the generally avant-garde Upstairs Theatre at the Royal Court has all of the feel of a visit to Sam Walters' Orange Tree in Richmond. Forget radicalism: this is an old fashioned play of left-wing ideas superimposed on to a family drama.
Perhaps the main reason why Sloane Square seems to have moved further South West is that director Ramin Gray has chosen to show this play in the round, to draw his audience in. Designer Jon Bausor has produced the simplest of sets, merely an oblong of fire bricks overshadowed by a wooden rack symbolising the roof of the Sydney house occupied by Bill and Helen, committed Marxists or possibly Communists - it is not clear which.
The relative calm of their lives is broken as a result of an affair that should have nothing to do with them. Their neighbour, Daniel Lapaine's David, may be the most intelligent man that anyone could ever hope to meet, a nuclear physicist involved in goodness knows what, but he still falls prey to his animal passions. The consequence is a broken marriage and the desertion of not only his wife but also his ten-year-old son Guy.
The boy generally suffers in silence and Luke Bromley does a fine job of showing a youngster trying to become a man before his time.
The heart of the play derives from the decision of Martin Turner's Bill to invite David into the family home. One suspects that his real motive is an opportunity to debate the serious issues of life with somebody who will put him down less than his long-suffering wife, played with tremendous feeling by Penny Downie, making the most of a rare opportunity to use her native accent.
David accepts all of the hospitality that the family can offer, including a place in the bed of their 15 year-old daughter Jasmine, who is played with great humour by stage debutante Samantha Losey.
The nuclear physicist recovers from a punch delivered by the man that might become his future father-in-law by promising eternal love and delivering - for at least a day. The ensuing pregnancy changes the lives of all concerned.
Scenes from the Back of Beyond is probably at its best when Bill and Helen are debating political issues from the standpoint of their place at the edge of a world that, as Jasmine points out, may be about to end. Their spirited, if somewhat bemused, defence of the behaviour of Communists in Russia and China now seems laughable but, at the time, was commonplace.
If that makes this place seem more like a history lesson than an exciting drama, such an analysis may not be too far from the truth. However, with a running time of around 80 minutes it does not overstay its welcome and for those with any kind of interest in left-wing issues or life in Sydney almost half a century ago this will offer an enjoyable evening's entertainment.
Reviewer: Philip Fisher