Bacon Knees and Sausage Fingers
Gary Kitching and Steve Byron
Alphabetti Theatre in partnership with The Worriers
Alphabetti Theatre, Newcastle
–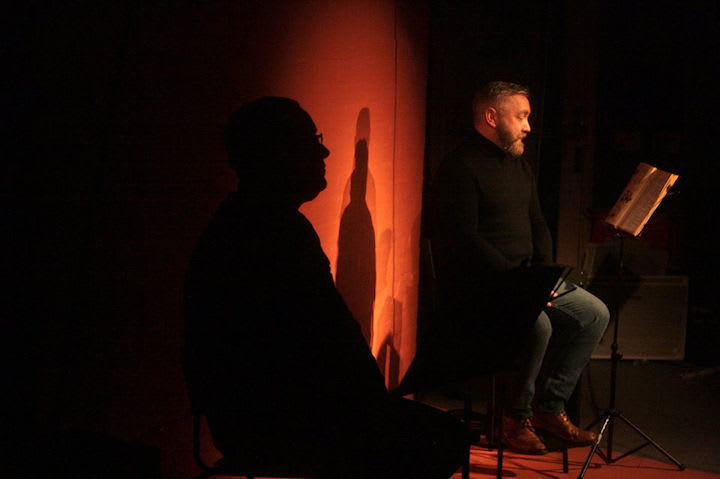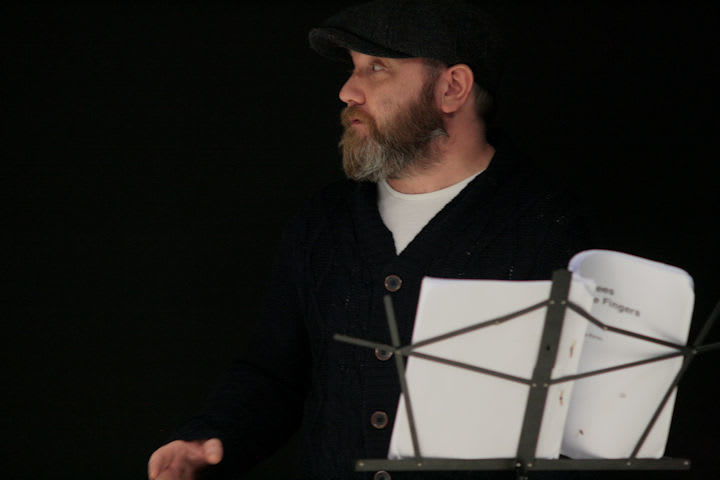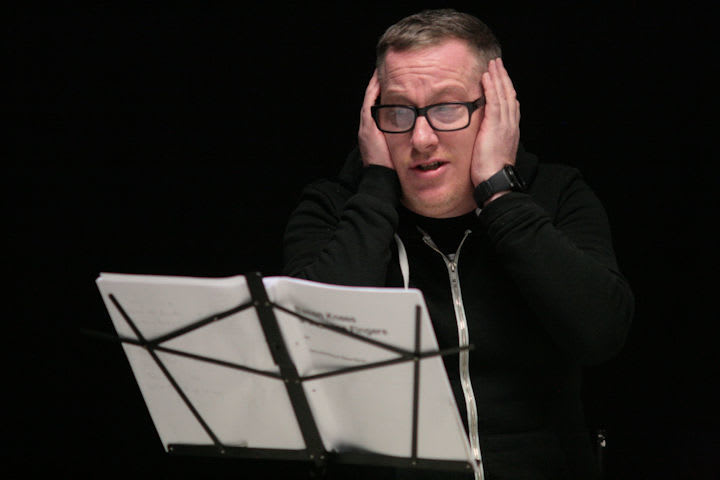 Sometimes you see a new play that does unusual things with the form or the subject matter or even both, and you're knocked off your feet, thoroughly excited by it, but when you see it again, sometime later, it disappoints because it was the shock of the new which excited you, not the play itself.
I went to Alphabetti's revival of Bacon Knees and Sausage Fingers wondering if that would be the case here. I saw the original production in October 2016, even creating a special award category for it in my Best of 2016 listing, but in the cold light of February 2019 I wondered if, as with many an Edinburgh Fringe hit (for Alphabetti is very reminiscent of Edfringe venues both in atmosphere and programming), I would come away disappointed.
Not a bit of it! Indeed, I think it was even better second time round. The slightly more sophisticated tech did add a bit but really it was the piece itself, the performances and the direction which have matured, deepened.
The play, essentially, is a conversation between two men, played by writers Gary Kitching (Bacon Knees) and Steve Byron (Sausage Fingers). We might call them oddballs, outsiders, even weirdoes. Our immediate reaction is to laugh at their strangeness but, as the piece progresses incrementally (literally as well as metaphorically), we are led to a deeper and deeper understanding of them and of their problems, and with that understanding comes sympathy, but a sympathy which is always tempered with a little unease.
And it is this complexity that is so compelling: we go through a mixture of laughter, anger, pity, suspicion and, at the end of it all, this beautifully constructed and highly original conversation between two men leaves us feeling…
Well, no. This is life. There's no one reaction, no one emotion. It's complex and confusing because we have been part of two lives of the kind most of us will only ever see from a distance, if indeed we even see them at all and don't just dismiss them from our minds. We are looking from the inside out and it's a very different view! And so at the end there is laughter, there are tears—and there's also just a touch of unease.
It's cleverly written and Ali Pritchard, Alphabetti's AD, directs with sensitivity and a light touch. Kitching and Byron really inhabit their characters, investing them with a humanity totally unexpected in two people who deviate so much from the accepted norm.
Reviewer: Peter Lathan