Bad Girls - the Musical
Book by Maureen Chadwick and Ann McManus, Music and Lyrics by Kath Gotts
Garrick Theatre
(2007)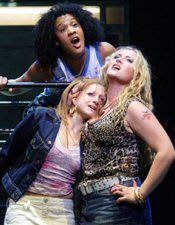 It was always going to be tempting to wonder whether the producers had got the words in the title in the wrong order. Was this going to turn out to be Girls - The Bad Musical?
Depending upon what audiences want for their £55, the answer might be yes or no. The plotting and characterisation in this two and a half hour comedy are generally weak while the music and choreography are rarely memorable. However, there are a handful of good performances that somewhat redeem the evening.
In any event, fans attracted by the TV series are probably not expecting social realism or coherent story-telling, just a bunch of under-dressed women, some sexual innuendo, a few laughs and a happy ending - and pretty much that is what they will get.
Larkhill Prison has been the home to eight seasons of the popular ITV1 series of the same name and, therefore, someone believes that there is a theatre audience to tap into for a few months. That may not prove correct unless they are rugby fans. The performance reviewed, only a couple of nights after opening, was sparsely attended but then England were playing a World Cup tie.
This show was always going to be a kind of Chicago meets Porridge and it is at its best when the Ronnie Barker surrogate, Sally Dexter playing Yvonne Atkins, is on stage. The star of the evening gets the best laughs and knows how to belt out a song, starting off with the pick of the evening, The A-List.
HMP Larkhill is ruled over by an ineffectual Governor, so that a couple of bent warders are its real power base, supported by the roughest of the prisoners, Shell Dockley. This hard nut is played by Nicole Faraday, known to fans of the TV version as Snowball Merriman.
Her partners in crime from the other side of the bars are nasty Jim Fenner (David Burt) and transferring over from TV, Bodybag played by Helen Fraser, desperately mugging almost as if she was in a pantomime.
Fenner has droit de seigneur over the inmates, living up to the title of screw at every opportunity. Problems begin to surface with the arrival of a new, idealistic Governor, the Scottish Helen Stewart. Laura Rogers' character quickly falls for a violent blonde Caroline Head's Nikki Wade who is up for an appeal. The casting of Miss Rogers' is witty, since the Welsh actress spent series seven on TV playing a prisoner, Sheena Williams.
The do-gooder wants to help everybody but is thwarted by her almost piratical colleagues. This pair, along with Camille Beeput, are the best of the singers and get a couple of nice yearning romantic duets, especially Every Night.
Things get much worse when Fenner rapes a new inmate who kills herself, leading to a spectacular riot followed by a sting, as he is lured by the "honeytrap" that is the exploding Shell.
Beyond questionable production qualities, the main problem with Bad Girls is that credibility is stretched so far that disbelief intervenes on a regular basis.
Overall, you begin to see why Britain has a problem with prison overcrowding. If all of Her Majesty's penal establishments are like Larkhill, as many people would be clamouring to get into them as to escape. Prisoners here have remarkable freedom, singing and partying at every opportunity. Between them, they carry a flick-knife, handcuffs, lighters, drink and drugs, and the lovely Miss Dexter wears stilettos to die for (or kill with).
The rest all dress like the TV idea of prostitutes and some are. One of the older ones even has a son at a boarding school in this fairytale world where money appears from nowhere.
The book, written by the originators of the series Maggie Norris and Ann McManus, features enough action for a life sentence including a rape, a suicide, a riot, a hunger strike, some serious partying, an almost fatal fire, a lesbian affair between a prisoner and a Governor and, to top the lot, a daring helicopter escape.
This might be more forgivable if the music was stronger or the lyrics better written. Too much is trite with the rhyming ("romance" with "in your pants") being of the ouch variety.
This makes Bad Girls a show for connoisseurs of the TV series but probably not too many other people. However, in a remarkably young environment, there is a nice cameo from Maria Charles as an octogenarian inmate and some tremendous big screen graphics, both computerised and filmed, designed by Mic Pool to enhance Colin Richmond's set.
Visit our sponsor 1st 4 London Theatre to book tickets for Bad Girls - the Musical.
Reviewer: Philip Fisher