Baghdad Wedding
Hassan Abdulrazzaq
Soho Theatre
(2007)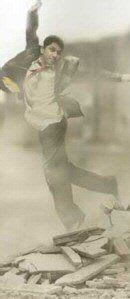 When Lisa Goldman took over the helm at Soho, it was always likely that the new writing theatre would concentrate on political drama, given her history with The Red Room. Her first play as director is predictably harsh in its depiction of life in present day Iraq and especially the impact of the American occupation.
Those who believe that the US is closely related the devil and its soldiers are animals will not be disappointed, but there is more to Baghdad Wedding than merely an excoriating attack on the foreign policy of Bill Clinton perpetuated by George Bush.
The central figures in this wedding are not the bride and groom but their relationship is almost as close. Salim and Marwan may be from the Iraqi intelligentsia but they first met at Imperial College back in 1998. They soon become firm friends despite an immense difference in character.
Evita star Matt Rawle's Salim is a bisexually promiscuous medical student who believes in the high life and soon achieves notoriety for a barely novelised account of his sexual shenanigans.
By contrast, would-be engineer Marwan, somewhat ironically played by an Israeli actor Nitzan Sharron, is a quiet man who, despite overt invitations from the belly dancing and then pogoing medico Luma (Sirin Saba), does not even pluck up courage to kiss this somewhat under-developed character.
This trio's entwined personal journey through six years is told alongside a thriller-style plot with political overtones. Though he has no commitment to his country, Salim decides to hold his marriage ceremony back home and, inevitably, tragedy strikes in the guise of an American Apache helicopter that, through one of those errors for which their country has become a byword, slaughters most of the wedding party.
We follow the mourners and see the way in which Salim is promoted as a martyr. However, he unbelievably survives, courtesy of a full set of screwdrivers, the illegally alcoholic variety not the tools.
After being picked up by hotheaded insurgents, his life is initially threatened but then salvation through religion is offered by big Ibraheem. This part is played by Emilio Doorgasingh who, after a truly dramatic raid that might give some viewers nightmares, morphs into American army interrogator Boothe.
If life with the freedom fighters had been hairy, Salim's time in American hands is much closer to inhuman (unless you are one of the legion of almost deaf Whitesnake fans).
Following his release, the three-way love story runs to a conclusion as our hero contracts for and then consummates his second attempt at a Baghdad Wedding.
Amidst the tragedy and torture, the evening has some very funny moments and Jon Bausor's simple two-part set is livened up by Jenny Kagan's lighting and Matt McKenzie's soundscape.
Hassan Abdulrazzaq's debut shows him to be an accomplished writer. He paints a good, if partial, picture of life for intellectuals in Iraq today. This is a man who loves his country and hates its invaders. The love story is rather predictable but since the major characters are amusing and likeable, this can be forgiven.
Reviewer: Philip Fisher