Balancing Acts
Nicholas Hytner
Jonathan Cape
Released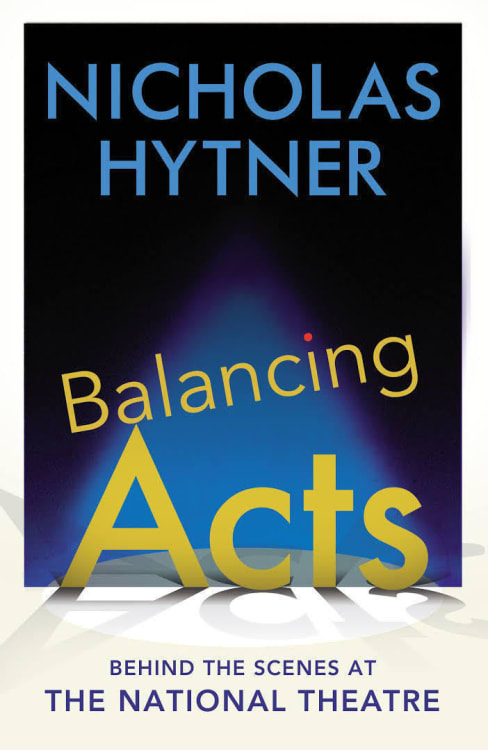 Sir Nicholas Hytner was arguably the best Artistic Director that the National Theatre has had in its 50-year history.
His unerring ability to spot a hit delighted audiences and left the theatre in a far stronger commercial position than anyone could have expected, given that financial support from the government and other external bodies diminished significantly during his 12-year tenure.
Without compromising artistic integrity, he also managed to fill the building to 95% or more of its capacity consistently across that time, which included the kind of recession that might have killed off less successful companies.
Balancing Acts is a most enjoyable series of memoirs recalling the highs and lows of the period. For those like this reviewer who saw almost all of the theatre's output, it recalls many happy memories including sensational nights out enjoying such gems as his opening salvo, an updated Henry V that spoke to the nation, The History Boys and One Man, Two Guvnors.

However, this is also a reminder of so many more high points across all three auditoria, building to both the Golden Jubilee celebrations and the refurbishment and reconfiguration of the venue, which ensured that he handed over a National Theatre worthy of the name to Rufus Norris.
Following a lengthy and informative introduction, the volume is then split into three parts, the first looking at the set-up years from 2001 to 2003, followed by a section on "new things" and another on "old things".
One is reminded of spectacular successes from the likes of Philip Pullman (as adapted), Mike Leigh and Sir David Hare plus the ubiquitous Alan Bennett in the new section.
Old inevitably features a great deal about the works of William Shakespeare, including the zenith represented by the Simon Russell Beale/Zoë Wanamaker Much Ado about Nothing. This part also contains sections on both musicals and entertainment, showing that even such an august building is willing to invite in audiences to enjoy themselves rather than merely getting well educated.
Along the way, readers will learn a great deal about the art of directing plays as well as running a big business and getting along with those sometimes very touchy arty types who inevitably end up making a director's life hell sometimes just for the fun of it.
There is also an opportunity to discover one of the key reasons why Sir Nicholas Hytner will be so fondly remembered by everyone involved at the National—his ability to balance the books. This partly resulted from an innate knack of spotting a commercial hit and transferring it to the West End and beyond. He then went a step further, showing the mark of an indisputable genius, by creating NT Live, which effectively did the same on a much larger scale via cinema screens around the world.
Balancing Acts is simultaneously a highly informative portrait of a wonderful institution, a fitting tribute to a great man who did his job brilliantly and a really good read. It comes highly recommended.
Reviewer: Philip Fisher