Ballet: The Definitive Illustrated Story
Foreword Viviana Durante
DK Books
Released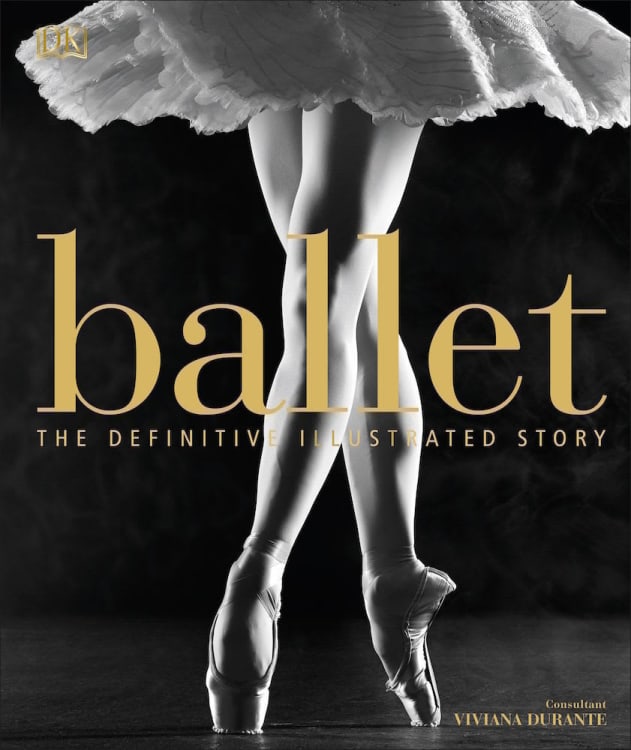 A heavy kaleidoscopic tome, a beautifully produced coffee table book, not one to read in one or even a few sittings (though some addicts might, as I have done—and did it make my brain hurt with its labyrinth of overlapping facts and odd juxtapositions), but one to dip into for entertaining reference and uplifting glossy images, Ballet: The Definitive Illustrated Story is a welcome addition to any balletomane's library.
I suspect, however, that this whistle-stop tour is aimed at the interested novice. And it could tie in neatly with a growing new Cinema Live audience for ballet. But it takes some navigating. Thank goodness for the comprehensive index.
Ballet's evolution and its spreading web of connections are laid out chronologically in six chapters from Beginnings of Ballet (1550-1830), through Romantic Ballet (1830-1860), Classical Ballet (1860-1905), Modern Ballet (1905-1945), International Ballet (1945-1975), to Ballet Today (1975 to present). Yet it is far from a linear telling: more of a fascinating potpourri, a lucky tombola dip, a maze in which to get lost.
There are timelines and double-spread storylines for the most famous ballets, capsule biographies, potted histories of the oldest and best ballet theatres, renowned dancers, key figures in the world of ballet, choreographers, costume and set designers (Léon Bakst especially) and composers (namely Lully, Adam, Tchaikovsky, and Stravinsky).
Do you know that it was Catherine de' Medici who, with her Ballet Comique de la Reine commission, brought dance to the French Court from Italy a whole century before Le Roi Soleil Louis XIV's remarkable twelve-hour spectacle Ballet de la nuit (in which the future King James II had a small part)? Louis did take up ballet with a passion and, as we know, founded the first dance academy. Do you know that when dancers Vestris père et fils came to London they were such a sensation that Parliament had to go into recess so that MPs could go and see them?
A delicious mélange of facts, anecdotes, myths and legends, with a juicy surprise at every turn of the page even if the collocations at times take one aback: John Neumeier followed by Shanghai Grand Theatre followed by Wayne McGregor… I wonder at the logic if not at the riches on every page. William Forsythe followed by Mayerling, Mikhail Baryshnikov, Ballet Method (half a page), and Sylvie Guillem… Sydney Opera House followed by Manon followed by Ivan the Terrible… Carlos Acosta followed by China's Arts Centre, followed by Alice's Adventures in Wonderland followed by Tamara Rojo… I must admit to feeling a bit like Alice.
Théophile Gautier's epigraph ("The very essence of ballet is poetic, deriving from dreams rather than from reality") is of its time, but has, I think, been shattered by Kenneth MacMillan and other contemporary creatives. It is the personal quotes that anchor and lift my spirits: my favourite is Bakst's: "Chagall is my favourite pupil, and what I like about him is that after listening attentively to my lessons he takes his paints and brushes and does something absolutely different from what I have told him."
Ninette de Valois's "And then you have the classical ballerinas—they're like sopranos. Applied to the dance" is apposite. Rudolf Nureyev, always an articulate independent soul, had this to say referring to Margot Fonteyn: "At the end of Swan Lake, when she left the stage in her great white tutu, I would have followed her to the end of the world".
Nureyev again: "A pas de deux is a dialogue of love. How can there be a conversation if one partner is dumb?"; "For me, purity of movement wasn't enough. I needed expression, more intensity, more mind." Which leads nicely and circuitously to MacMillan—if one can make that connection. But that's ballet for you, always in a spin.
At the end of the nineteenth century we have Sergei Diaghilev with "First of all, I am a great charlatan… second, I'm a great charmer; third, I've great nerve; fourth, I'm a man with a great deal of logic and few principles; and fifth, I think I lack talent; but… I think I've found my true calling—patronage of the arts…"
This century we have the controversial Wayne McGregor: "dance is a cognitive act, not a physical act." How far dance has travelled... Ballet: The Definitive Illustrated Story is definitely a series of stories, definitely beautifully illustrated, but I always have a problem with definitive. Indeed, the above quotes challenge any definition of definitive.
There are eight pages at the back of "other key figures", which include Michel Fokine, August Bournonville, Sergei Prokofiev, Bronislava Nijinska and Anthony Tudor amongst others—with at most a hundred and fifty words on each. Two pages dedicated to "other key ballets", ten of them, including Schéhérazade, and a two-page glossary of terms. So, a snapshot, a pick 'n' mix, something for everyone to read at will—useful for Mastermind… Best to ignore and forgive the few inevitable typos—Mitchen for Mitchell…
Reviewer: Vera Liber